Swiss wargame casts an indebted France as the enemy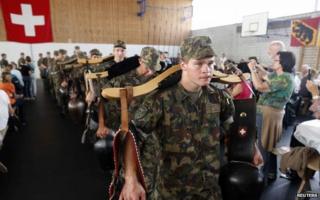 The Swiss army has carried out a training exercise which simulated an attack by France, it has emerged.
The wargame - which took place in August - assumed that an indebted region of France had decided to invade Switzerland to recover stolen assets.
Swiss military officials have stressed that the scenario has nothing to do with a current row between the two countries over tax.
Switzerland has not fought a war for nearly 200 years.
The Swiss army created a scenario in which France had split up into several regional entities, following a political and economic crisis.
One of these fictitious regions, known as Saonia, had decided to invade Switzerland to retrieve stolen money that was apparently held in Swiss banks.
The BBC's correspondent in Switzerland, Imogen Foulkes, says details of the exercise may surprise the French government.
"The fact that this story was dreamt up in the middle of a real tax row between France and Switzerland, over assets placed by wealthy French citizens in Swiss banks, is, the Swiss army insists, complete coincidence," she says.
Coincidence
Daniel Berger, captain of the Swiss armoured brigade, told the Swiss daily newspaper, Le Matin, that "the exercise has strictly nothing to do with France".
"It was prepared in 2012 when fiscal relations between both countries were less tense," he said.
Our correspondent says the Swiss military chose a similarly topical theme for its exercise last year.
"Whoever does do the planning for Switzerland's military manoeuvres seems to have an uncanny knack for relating them to current affairs.
"Last year's practice imagined the collapse of the euro, leading to social chaos across Europe and an influx of refugees to Switzerland."