DSD unveils redevelopment plans for Queen's Quay, Belfast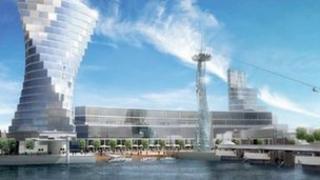 A plan for the redevelopment of a vacant site on the banks of the River Lagan in east Belfast includes a zip-line across the river.
A temporary zip-line is regularly set up for charity events but it would become a permanent feature as part of the plan for Queen's Quay.
It covers an area of 1.3 hectares on the east bank, close to the Odyssey.
The master plan includes a four star hotel and almost 300 homes, alongside bars and restaurants.
The Department for Social Development (DSD), which is behind the plans, said any development would take place on a phased basis, dependent on market conditions.
Later this year DSD will bid for executive funding to begin public realm works which will include the removal of the Station Street flyover and creating a boardwalk along the river.
The plan also states that because of an anticipated "slow response from the developer sector" in the current economic climate, the development plots will be used as "temporary public realm amenities".
Those amenities could include things like, 'pop-up' food and drink kiosks alongside temporary artwork or sculptures.
DSD has used a similar approach at its Queen's Parade site in Bangor where 'art pods' are providing temporary studio space for artists.
It says that it is not promoting Queen's Quay to developers yet but will "monitor market conditions" and listen to informal expressions of interest.
A provisional timetable anticipates the selection of a developer in 2015/16 with completion of the scheme by 2022.
There have been plans to redevelop Queen's Quay since at least 2005 when the now defunct Laganside Corporation selected Sheridan Millennium as the preferred developer.
However, Sheridan Millennium later lost preferred developer status and the project became embroiled in legal action before being derailed by the property crash.