Morrisons boss says shoppers are still struggling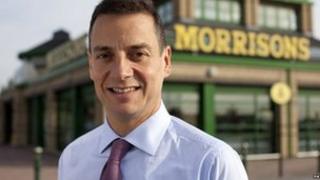 A third of Morrisons' customers are "one pay cheque away" from not being able to pay their mortgages, according to chief executive Dalton Philips.
The chief executive said that although he has seen lots of data suggesting signs of recovery, he is not seeing any change in customer behaviour.
"For all the green shoots out there, consumers are still under pressure," he told BBC Radio 4's Today programme.
And these habits, he believes, will not change anytime soon.
"It's a paradigm shift in how consumers feel and how they will continue to manage their pounds. Half of our customers are physically checking the prices of items in their baskets," he said.
It is hard to think of a major British company with a more daunting strategic challenge than Morrisons.
Although the retailer has grown very quickly over the past 10 years, from 100 stores to 500 after acquiring Safeway, it has fallen behind its rivals in the new world of retail.
"We didn't have any convenience stores when I arrived - and, to be honest, not even a plan for them," said Mr Philips as he outlined his two-year strategy.
He pledged to put his business on a "level playing field" with its rivals by aggressively expanding its convenience stores and modernising "antiquated" systems.
He estimated that Morrisons could have 300 local convenience stores over the next three years.
Pen and paper
So how did this retailer fall so far behind its rivals?
Mr Philips refused to lay the blame at the door of his predecessor, Marc Bolland, now head of Marks and Spencer.
"I can't talk about why we were not there. My job is to ensure we are now growing in the right channels."
He has had a lot on his plate.
When Mr Philips took over in 2010, Morrisons staff were still counting the nightly takings by hand and ordering stock with pen and paper. That's quite something for a business turning over £18bn a year.
Now they're in the process of giving tablet computers to staff for ordering fresh supplies, and electronic counting of cash.
'Being brilliant'
"The technology was stuck in the 20th Century," he said.
Morissons is spending £300m pounds this year on overhauling its systems.
The rapid move into online has not been cheap, either. A tie-up with online retailer Ocado that will be launched in early 2014 is costing about £200m.
Within the next two years, Morrisons aims to have closed the gap with its rivals.
Mr Philips was asked what his goal was five years from now.
"For me it's about being brilliant at what you do. We're not going to be the biggest, but we want to be the best at these new channels, we want to be setting the pace in the UK."