Mobile homes: Park owners 'flouting laws' over sales interference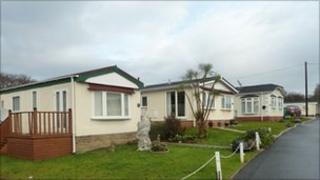 A new law designed to protect mobile home residents in England when they try to sell is being flouted weeks after it came into force, the BBC has learnt.
The change was aimed at stopping owners of park sites from interfering with transactions and subsequently purchasing homes at a knock-down price.
But some site owners want residents to sign letters saying they can still vet future home buyers.
Ministers insist park landlords will no longer be able to block sales.
Mobile home residents do not own the land their properties are built upon and historically, site owners have had a lot of influence over who moves onto a site including vetting buyers of homes.
'Make a fortune'
The Mobile Homes Act, which became law last month, was designed to remove site owners from the process, with councils able to issue unlimited fines to people who do not abide by the new laws.
But the president of the National Association for Park Home Residents, Brian Doick, told Radio 4's You and Yours that letters were being sent to residents telling them the owners have the right to interview people when they buy the home.
Some site owners, he suggested, were using the interviews to put buyers off by claiming the home is not up to standard or will be moved off "so they can buy it themselves cheaply and make a fortune".
"This shows that the unscrupulous site owner does not agree in any way, shape or form with what the government has achieved in changing the law to help people have the right to sell their homes," Mr Doick added.
Site owners get 10% commission on any sale of an existing mobile home. But if they can replace it with a new home which they sell on they can make profits of up to £100,000.
One letter seen by the BBC urges a resident to arrange a meeting with a potential buyer - in the presence of the site owner - to discuss "all aspects of park home living" and urges the seller to "sign a copy of our letter agreeing to our policies."
Apologies
The British Holiday and Home Parks Association, the trade body representing some of these sites, said it had contacted two site owners who had apologised and agreed to withdraw the letters.
Its director-general Ros Pritchard said that owners were changing the way they operate but "This is a big, big change and some haven't understood it yet.
"There is a job to be done at the moment to communicate what are fundamental changes to the way park business operates in England," she said.
In the past there have been allegations of harassment and intimidation when people try to sell their properties - including arson attacks to scare people into selling the mobile home to the site owner.
Mobile home residents are also concerned that the new law has resulted in a two-tier system.
While those already living in mobile homes will still have to give the name of the buyer to the site owner, new homes which are then sold on will not have to tell the site owner until a sale has gone through.
Communities Minister Don Foster said site owners were no longer able to block sales and "rogue elements" were being tackled.
While the majority of sites were "properly managed and maintained", he said the government could go further and introduce a fit-and-proper test for site owners if it was deemed necessary.
You can listen back to You and Yours on the BBC's IPlayer Radio