Profile: Wendi Deng Murdoch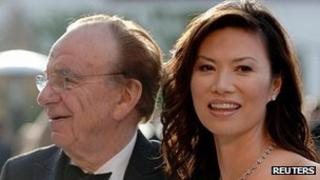 Wendi Deng Murdoch is the wife - soon to be ex-wife - of one of the richest men in the world.
She's a businesswoman, mother of two and Yale graduate, but perhaps her biggest claim to fame involves a pie made from shaving foam.
Ms Deng - the third wife of media mogul Rupert Murdoch - slapped a man who was trying to throw the pie into her husband's face during a British parliamentary hearing into the News International phone-hacking scandal.
The incident was televised and her fame spread, even back to her native China.
It also went some way to improving her image, as gossip magazines had previously labelled the 44-year-old a 'gold-digger' for her marriage with the 82-year-old Murdoch. The 'trophy wife' became the 'tiger wife' almost overnight.
From China to America
Ms Deng and Mr Murdoch married in 1999. They have two daughters together, 11-year-old Grace and nine-year-old Chloe, and lived in a $44 million Manhattan penthouse, with many other palatial homes around the world.
It's a long way from Ms Deng's childhood in the eastern Chinese city of Xuzhou.
She was born Deng Wenge - literally "Cultural Revolution" Deng - which she changed to Wendi as a teenager.
Her father was the director of a factory, and initially she seemed destined to become a doctor, attending medical school in Guangzhou.
But plans changed when, at the age of 18, she met an American couple, Jake and Joyce Cherry. Joyce started teaching her English, and in 1988 the Cherrys sponsored Ms Deng to get a student visa to study in California.
In 1990, Jake Cherry left his wife to marry Ms Deng, but less than three years later they divorced.
After a stint working in a California restaurant Ms Deng was accepted by Yale University to study for an MBA.
Her connection with Rupert Murdoch's News Corp began when she was given an intern position at Star Television, a Hong Kong satellite TV service which is part of Mr Murdoch's vast media empire.
The couple met at a cocktail party, and were married two years later - weeks after his divorce from Anna Maria Torv.
That divorce was one of the most expensive in history: Ms Torv received a $1.7bn (£1bn) settlement.
Ms Deng is unlikely to receive as much money, as she signed a pre-nuptial agreement, and aides at News Corp have been quick to say that the divorce will not have a big effect on the running of Mr Murdoch's empire, which is reportedly worth $9.4bn (£6bn).
But Ms Deng is still likely to receive a sizeable fortune, and she's also an influential News Corp employee in her own right, playing an important role in the organisation's growth into China, and chief of strategy for MySpace's China operation.
The Wall Street Journal, one of the many media outlets that Rupert Murdoch owns, once described her as News Corp's "de-facto diplomat" in China.
She's also produced her own film, Snow Flower and the Secret Fan, about two foot-bound Chinese children.
Divorce 'a surprise'
While the couple were said to have spent some considerable time apart, their relationship was reportedly strengthened during the allegations of phone hacking that engulfed parts of the Murdoch empire in 2011.
No more so than when Wendi Deng made global headlines as a result of the shaving foam pie incident.
So the announcement of the end of the marriage caught some by surprise. Michael Wolff, Mr Murdoch's biographer, told The Daily Telegraph he was "absolutely gobsmacked".
Mr Murdoch's spokespeople have declined to comment on the reasons for the divorce.