Ofgem set to 'break stranglehold' in the energy market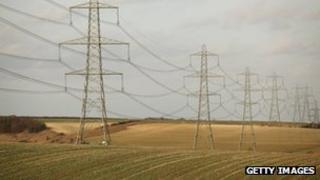 The energy regulator Ofgem has set out plans to "break the stranglehold of the big six energy suppliers".
The measures require large suppliers and generators to trade fairly with smaller players or face cash penalties.
Centrica (British Gas), E.ON, SSE, Npower, EDF and ScottishPower will also have to post the prices at which they will buy and sell electricity up to two years in advance.
Ofgem says it will increase competition in the wholesale energy market.
The six companies generate 80% of Britain's electricity and supply around 95% of it to their customers.
"Ofgem's proposals will break the stranglehold of the big six in the retail market," said Andrew Wright, senior partner for markets at the regulator.
He added that they should also "create a more level playing field for independent suppliers, who will get a fair deal when they want to buy and sell power up to two years ahead".
The move is part of Ofgem's attempts to shake up the retail market for consumers.
Reforms outlined already will require firms to provide customers with simpler, clearer and fairer tariffs.
But the regulator wants more competition as well, and is seeking ways to ensure new entrants can take on the dominance of the six largest energy suppliers.
Fair play and market making
Under the proposals, the major generating firms will not be able to refuse reasonable requests by smaller suppliers to buy energy.
The major firms will have to sell power at a fair price and negotiate fairly at all times.
There will be deadlines to ensure the larger companies acknowledge requests and respond to them.
Traditionally, firms have tended to restrict sales to smaller suppliers to the near-term.
The biggest six companies currently auction up to 30% of their power in so-called spot market - for immediate usage.
Prices in the forward market - for delivery of energy months or years in the future - have been less transparent.
So the regulator wants to impose an obligation that will require the big six companies to post the prices at which they will buy and sell power up to two years in advance.
Ofgem says this will make it easier for independent firms to buy power for their customers.
It also expects greater price transparency to assist investors seeking to build new power generation plants in the future.
Will it work?
Some smaller entrants have long complained that opening up the spot market did not go far enough.
One of these smaller energy provider First Utility, which has 180,000 customers, says it buys just 1% of its electricity on the spot market. It says that it needs access to longer-term contracts.
"Ofgem's proposals are a positive move and there is no doubt that independent suppliers will be better off as a result, but the concern is that they will be complicated to design, implement and manage and won't completely solve the problem," said First Utility.
The company said it saw the move as a useful first step.
But it believed the long-term solution should be to force the big companies to offer all of the energy they generate for sale to other energy firms on the wholesale market, rather than retaining a big chunk for sale to their own end customers.
'More work to be done'
Other entrants argue that it is not liquidity but predatory pricing by the six largest companies that is the biggest problem.
Responding to the proposals, Angela Knight, chief executive of Energy UK, which represents the major energy companies said: "Effective and transparent wholesale energy markets can deliver benefits for customers, and we understand and agree with the objective of creating a more competitive retail market."
"The energy industry agrees with Ofgem that more work needs to be done on these proposals and is keen to have further discussions."
"The Ofgem proposals are not just a 'big six' issue, but apply to how the eight largest generators sell their energy onto the wholesale market. We need to consider carefully how the proposals join up as some have the potential to increase costs while others may well make it easier to see what is happening in the market," she added.
Ofgem says that it will consult on the license conditions that will bring the reforms into effect in the autumn. The changes are expected to be in place by early 2014.