Chicago to close more than 60 schools in budget cut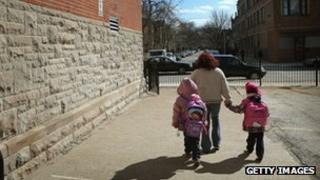 The city of Chicago plans to close more than 60 schools, in one of the largest mass school shutdowns in US history.
The move, which would affect about one in ten schools, is an effort to plug a $1bn (£659m) budget shortfall and address declining enrolment.
Parents fear their children will be displaced from familiar neighbourhood schools and forced to commute longer through dangerous areas of the city.
The city board of education will take a final vote on the proposals in May.
About 30,000 students out of 403,000 would be affected by the changes.
School officials said the closures would save $560m over the next decade.
"Every child in every neighbourhood in Chicago deserves access to a high quality education that prepares them to succeed in life, but for too long children in certain parts of Chicago have been cheated out of the resources they need to succeed," Chicago Public Schools Chief Executive Barbara Byrd-Bennett said in a letter announcing the proposal.
"As a former teacher and a principal, I've lived through school closings and I know that this will not be easy, but I also know that in the end this will benefit our children.
"Like school systems across the country where enrolment has dropped, Chicago must make tough choices and by consolidating these schools we can focus on safely getting every child into a better performing school close to their home."
Fifty-four schools that officials describe as "underutilised" and "under-resourced" will be closed completely. An additional 11 will be "co-located" into another building already occupied by a school, officials said.
Among the other benefits being cited by officials, all affected students will have air-conditioned classrooms, and the schools will all have libraries by the end of the transition.
Some local politicians complained the closures were disproportionately affecting black and Hispanic neighbourhoods.