Does India need a bank for women?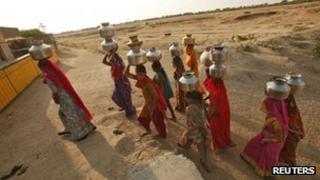 Does India need a bank for women?
India's government thinks so. Plans for such a bank - the first state-run one of its kind in India - were announced in the annual budget.
Finance Minister P Chidambaram said the bank was likely to be launched in October, with an initial capital of $184m (£120m), and will be run by the government.
The bank will employ women, lend mostly to women and "address gender-related issues, empowerment and financial inclusion", he said.
On the face of it, a bank for women appears to make sense.
Just 26% of women in India have an account with a formal financial institution, compared with 46% of men. That means an account in either a bank, a credit union, a co-operative, post office or a microfinance institution, according to a recent study by the World Bank.
With more and more women going to work in India - and a larger number of them in the informal economy - a bank for women, say its supporters, helps empower and provide financial security.
Many Indian women typically give their earnings to their husbands - when in fact women are seen as more astute savers than men and it would make sense for them to have a bank account of their own.
But experts like Vijay Mahajan, a leading social entrepreneur, says a bank for women is mere tokenism in a country where there are "deep institutional problems" which lead to financial exclusion of women.
For one, he says, banks don't lend to women easily because a significant number of them work from home and are not a part of the formal economy.
Also, banks insist on collateral against loans and since a large number of Indian women don't have the rights or title to property, they are unable to provide any collateral.
Critics of the move also wonder why the government does not replicate the example of Sewa Bank, a 41-year-old all women's co-operative bank, which was begun in Gujarat by social worker Ela Bhatt.
The profit-making bank has more than 60,000 members, and offers savings, credit and insurance.
Others believe what India really needs is more financial inclusion for both women and men.
Only 35% of people have access to banking services against a global average of 50%.
There are only around 100,000 bank branches in India and a large number of the country's more than 650,000 villages don't have a single bank.
Poverty, illiteracy, lack of regular income and steep transaction costs keep out the poor from India's banking system. Many are at the mercy of predatory money lenders who charge steep interest rates and often bankrupt borrowers.
India's central bank has initiated moves to bolster financial inclusion: no-frills savings accounts with low minimum balance requirements; the use of regional languages in banking documents; using microfinance institutions and NGOs for improved outreach; and providing easier credit and financial education.
India possibly needs more of this rather than a bank for women.