Gaza rocket lands near Ashkelon in southern Israel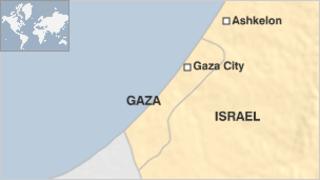 A rocket fired from the Gaza Strip has landed in southern Israel - the first such attack since shortly after a ceasefire ended eight days of clashes in November, Israeli police say.
The rocket caused some damage to a road in Ashkelon but no injuries.
The strike follows days of clashes between Israeli forces and Palestinian protesters in the West Bank.
Violence erupted over the detention of hunger strikers and the death of a Palestinian detainee in Israel.
Israeli police spokesman Doron Ben-Amo told the BBC a missile fired from Gaza landed in an industrial area in Ashkelon and some damage was caused to infrastructure.
The al-Aqsa Martyrs Brigades said it fired the rocket in revenge for the death of the detainee, who belonged to the group.
"In a preliminary response to the killing of our hero the prisoner Arafat Jaradat, we claim responsibility for firing a Grad rocket on Ashkelon at 6:00 (04:00 GMT)," it said in a statement.
Palestinians say Mr Jaradat, 30, died from torture, while Israel says a post-mortem was inconclusive and that investigations into his death continue.
Although levels of cross-border violence have dropped sharply since the conflict, four Palestinians have been shot dead close to the border, where Israel maintains a buffer zone which civilians are forbidden to enter.
Correction 1 March 2013: The report said that two Palestinians has been killed in Gaza since the end of the ceasefire. The correct number is four.