Singapore's Speaker of Parliament resigns over affair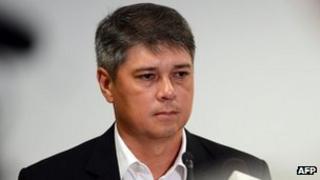 Singapore's Speaker of Parliament, Michael Palmer, has resigned after admitting to an extramarital affair.
Mr Palmer said he quit to avoid causing "embarrassment" to the ruling People's Action Party (PAP) and the parliament.
The government has been hit by a number of other scandals this year after the former chiefs of the anti-drug agency and Civil Defence Force were accused of accepting sexual favours.
Mr Palmer's resignation may trigger a by-election for his parliamentary seat.
However, Prime Minister Lee Hsien Loong played down talk of an immediate by-election, saying the constitution did not require him to call one "within any fixed timeframe".
Under Singapore laws a by-election is held at the discretion of the prime minister.
Mr Lee said that he will "carefully consider whether to call a by-election... and if so, when".
'Grave mistake'
Mr Palmer, a 44-year-old married father of one, has been a member of parliament since 2006 and was sworn in as the Speaker in October 2011.
Announcing his resignation at a press conference on Wednesday, Mr Palmer said that he was also quitting the PAP.
"I have resigned to take full responsibility for a grave mistake that I have committed," Mr Palmer said.
"My conduct was improper and it was a serious error of judgment. I have resigned in order to avoid further embarrassment to the PAP and to parliament," he added.
Though Mr Palmer did not disclose the name of the woman involved, local media reported that she was a member of staff at a government agency called the People's Association. It was reported by the Straits Times that she quit her post on Monday.
According to its website, the People's Association promotes racial harmony and social cohesion in Singapore.
As well as working as a member of parliament, Mr Palmer is also a partner of law firm Harry Elias Partnership, where he heads the sports and media practice group.
When contacted by the BBC, the firm said there had been no change in Mr Palmer's role.