Google Nexus and Amazon Kindle in new content deals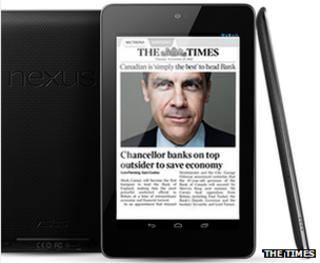 Google's Nexus 7 and Amazon's Kindle tablets are involved in new deals that highlight how content, rather than tech specs, are helping drive device sales.
The UK's Times newspaper is subsidising the cost of the Nexus as part of its digital editions bundle.
Amazon is launching an "all-you-can-eat" media subscription offer targeted at children in the US.
One analyst said the moves might help the devices challenge the iPad's "richer app ecosystem".
Apple's share of worldwide tablet shipments dipped from about 66% to 50% between the April-to-June quarter and the July-to-September period, according to data from IDC.
By contrast the Kindle and Nexus devices' share grew. Investors will watch to see how that trend is affected in the current period following the launch of the iPad Mini.
Bundle discount
The Times is promoting its Nexus 7 Digi Bundle - which gives online access to The Times and Sunday Times papers - by offering the 32GB version of the tablet for £50, on top of the price of its standard package, rather than the £199 it is sold for in shops.
The deal involves an 18-month commitment to the paper, bringing the total cost to £299 for the period.
It is notable that the firm picked Google's tablet, bearing in mind News International's chief executive, Rupert Murdoch, had previously described the firm as a "parasite" for offering his papers' content in its news search listings.
One analyst suggested the deal would prove an "eye-catching" boon to the firm in the run-up to Christmas - a time when many families are considering buying a tablet.
"In the long term there's no question a significant proportion of media will shift onto tablets, and that's a threat to print publications as it allows people to consume content in situations [where] they would have only have read print in the past," Benedict Evans, tech expert at Enders Analysis, told the BBC.
"So the Times is trying to create a habit-making link here. But you also need to recognise the Times has an established 'customer acquisition cost' and has a long tradition of using free gifts to secure sales."
Asus - the manufacturer of the Nexus 7 - said the deal had come about after it had been approached by News International. Google stressed that it had not been involved in the arrangement.
Child-friendly content
Amazon's FreeTime Unlimited service charges a monthly fee for access to book, game and educational apps; movies; and TV shows.
Disney, DC Comics, Nickelodeon and the team behind Sesame Street are among the publishers that have allowed their content to be included.
The product is focused at children aged between three and eight and will promote content depending on their gender and age.
It costs about $5 (£3) per month per child, although there is a discount for members of the Amazon Prime programme.
Amazon had previously told the BBC it sold its hardware "at cost" meaning it only makes money by selling content to users and tempting them to make further purchases from its site.
The firm said it had no details about if or when the service would launch outside the US. However, one analyst believed such deals would become more common.
"Android tablets have become commoditised hardware with no one de facto source of content, so it will be media deals that will help push specific devices into the hands of consumers," said Chris Green, principal technology analyst at Davies Murphy Group.
"So far this trend hasn't had too much impact on Apple, which predominantly sells rather than rents content - it's sales are doubling annually even though its share of the overall market has fallen.
"But if its sales started to be cannibalised, I believe Apple's strategy would switch overnight."