Pay TV channel Primetime says 'sorry' over Ricky Hatton fight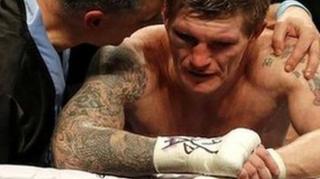 Pay per view TV channel Primetime has apologised after hundreds of customers were unable to watch Ricky Hatton's comeback fight after the channel suffered 'technical issues.'
People who tried to order the fight between the peak times of 7.10pm and 9.50pm on Saturday were unable to do so and say they were left trying to go through the automated system before being cut off.
Other customers complained of being faced with a blank blue screen having paid £14.95 to watch the event and have told BBC Radio 4's You and Yours programme they've had trouble speaking to anyone from the company.
Primetime has said it will deal with each complaint on an individual basis and will refund any paying customers who were unable to watch the fight.
It's not the first time Primetime or other pay TV platforms have had problems. In 2009 the channel had major issues during its broadcast of Carl Froch vs Andre Dirrell. Sky Box office and Frank Warren's Box Nation have also suffered similar issues.
Primetime says a technical fault meant it was unable to process orders and it couldn't handle the volume of calls which followed. It denies being understaffed on the night.
Adam Taylor, Head of Sales and Customer Services for Portland TV, which owns Primetime, said: "This fight was retailed on the largest number of outlets we've ever used so it was only Sky customers who may have had problems".
"At the moment we've experienced 700 complaints which we are working to resolve. Customers who we didn't send a signal to would not have been charged."
"We had our largest ever customer operations service on for this event and we will be hoping to get all complaints resolved by the end of this week".