Chelsea FC record first Abramovich-era profit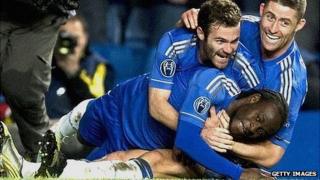 Chelsea Football Club has said it made a profit of £1.4m ($2.2m) for the financial year ending on 30 June, the first time the club has made a profit since Russian billionaire Roman Abramovich took over as owner in 2003.
The west London club also recorded a record group turnover of £255.7m.
The team, which won the Champions League last season as well as the FA Cup, are second in the Premier League.
The profit comes after a £67.7m loss in the previous financial year.
Chelsea says it is in a strong position to comply with UEFA's Financial Fair Play criteria for the coming seasons, which require clubs over a fixed period to achieve a break-even figure when expenditure is measured against income from football-related activities.
The increase in turnover puts them above Arsenal in the money league and in fifth place in the world behind Real Madrid, Barcelona, Manchester United and Bayern Munich.
Arsenal's figure, released two months ago, saw overall turnover fall to £243m from £255m, but profits were £30.6m.
BBC business editor Robert Peston, a Gunners supporter, said that Chelsea's profit "challenged Arsenal's claim that its restrained spending will put it in a stronger position for financial fair play".
'Improving financial performance'
Club chairman Bruce Buck said: "We will never forget that night in Munich and now we are celebrating serious progress off the field, too.
"While we draw huge satisfaction from the achievements of the past 12 months, we are more than ever focused on continuing the story of on-field success supported by improving financial performance off the pitch."
Turnover was up from £225.6m the previous financial year.
"The club also enjoyed an uplift in revenues from commercial activities including new partners and merchandising," a Chelsea statement said.
It added: "The club also negotiated a deal with BSkyB to acquire its interest in Chelsea Digital Media Ltd (the holder of certain Chelsea media rights). This deal allows the club to have full control of our digital media strategy."
According to their statement Chelsea made "significant profits (£28.8m) ...in the transfer market".
However, there were a number of big-money signings during the year of the accounts - for example of Eden Hazard, for about £30m, Juan Mata (£23.5m) and Gary Cahill (£7m) - without any major sales of players.
Ten trophies
The Stamford Bridge club's statement also said that debt of some £166.6m was turned into equity during the course of the year "making Chelsea FC plc debt free".
Mr Abramovich took control of Chelsea in June 2003, when he bought the club from then-owner Ken Bates.
Since he took over the club has won ten major trophies - the Champions League, three Premier League titles, four FA Cups, and two League Cups.
In the year ending June 2005, Chelsea posted a record financial loss of £140m (€165m).