Sonia Gandhi visits Haryana rape victim family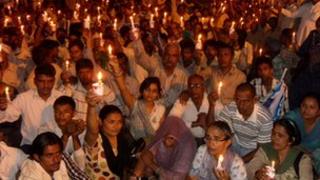 The leader of India's Congress party Sonia Gandhi has visited the family of a low-caste Dalit girl who committed suicide after she was allegedly gang-raped in Haryana state.
At least 11 rape cases have been reported over the past month, leading to widespread outrage.
Most of the victims were Dalits (formerly called "untouchables") and underage girls.
State officials say media coverage is a conspiracy to "malign the government."
Phool Chanda Mulana of the Congress party in the state said that "such incidents have happened earlier".
The latest incident took place last week when the 16-year-old Dalit girl set herself on fire after she was allegedly gang-raped by two men in Jind district.
After visiting the girl's family, Mrs Gandhi told reporters: "I criticise in the strongest terms these kind of incidents. The guilty should get the severest punishment."
Several recent incidents in Haryana have shocked the nation:
On 18 September, a man committed suicide in Hisar district after he came to know that his young daughter had been gang-raped by 12 men
A 15-year-old Dalit girl with learning difficulties was allegedly raped by a man in an abandoned house in Rohtak district on 1 October
On 3 October, a 13-year-old schoolgirl was allegedly raped by her 45-year-old neighbour in the same area
Haryana's police chief Ranjiv Dalal has asked the media to "exercise restraint" while reporting the incidents, and said that the number of rape cases in the state from January to August had declined to 455 this year compared with 534 rapes during the same period last year.
But BBC Hindi's Arvind Chhabra says the latest series of rapes has raised questions about the efficiency of the police.