Lib Dem Conference: Party 'cannot go it alone' over Trident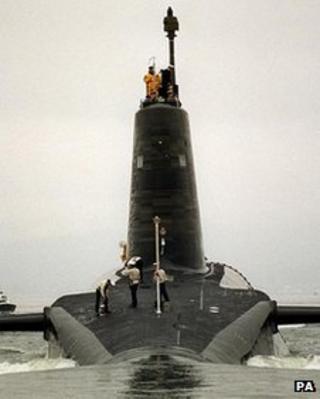 The Lib Dems need to build a "broad coalition of support" if they are serious about an alternative to Trident, a former minister has said.
Nick Harvey told a fringe meeting there was a "realistic chance" of securing a different outcome to renewing the UK's existing nuclear weapons system.
But he warned his party against adopting an "intellectually satisfying" policy which no-one else agreed with.
The Conservatives are committed to renewal but many Lib Dems oppose it.
A decision on whether to proceed with Trident renewal has effectively been pushed back until after the next election - scheduled for 2015.
Experts say maintaining a continuous at-sea deterrent for the next generation will cost between £25bn and £100bn to build and operate.
Until he lost his job as armed forces minister in the reshuffle earlier this month, Mr Harvey was in charge of a value-for-money study looking at the feasibility of alternatives to Trident.
He said he hoped the report - when it is published next year - would provoke a debate on what future capability the UK needed and what the country could afford.
Mr Harvey suggested his party "had got away with it" by entering the 2010 election on a pledge to oppose Trident renewal but not set out a concrete alternative.
"We cannot seriously expect to come back five years later and get away with that again," he said.
The Lib Dems, he added, must look for support "from the left" if it wanted to win the argument for an alternative posture and if they hoped to persuade the public.
"I think we should resist the temptation of finding a new Lib Dem policy that is so intellectually satisfying it flies at the next election and attracts support from no-one but ourselves," he said.
Mr Harvey suggested the future of the UK's nuclear deterrent could be an election issue in 2015 for the first time in more than 30 years.
Parliament supported the principle of Trident renewal in in 2007, when both Labour and the Tories were in favour.