Europe: Budgets that hurt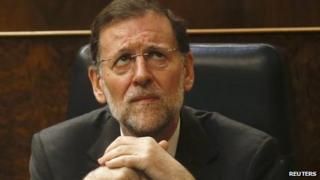 Some of Europe's troubled economies will focus this week on their budgets and spending plans.
Spain takes centre stage. Later this week, on Thursday, it will approve another tough budget. The details will have been negotiated with the European Commission.
The question is whether this budget is intended to prepare the way for a full-scale bailout.
There is widespread speculation that Madrid will shortly put up its hand and admit it wants help.
If that happens the government of Mariano Rajoy is desperate to avoid having to accept new austerity conditions forced on it by the EU and the IMF.
So the plan is to adopt new measures first and then possibly ask for funding. It can then be presented as aid without conditions.
France backs early help for Spain. The Germans do not.
German Finance Minister Wolfgang Schaeuble insists that Spain does not need additional aid beyond the 100bn euros (£79bn; $129bn) already promised for Spanish banks.
That may reflect the fact that the German parliament would have to approve any new rescue programme - and that may prove difficult.
What may focus minds are strong hints that Spain may once again fail to meet its targets for cutting its deficit.
It has already been revised upwards once to 6.3%. Even that figure may be beyond reach.
"Nobody now believes it will be able to fulfil its targets," said Alberto Roldan from Spanish brokerage Inverseguros.
The country is caught in the trap of consumers spending less and sales tax revenues falling.
Now the mood in Brussels is to fudge the fiscal targets. Greece is likely to be offered more time. Portugal has had its targets eased. Spain could yet follow but some in Brussels would prefer to see the country in a bailout programme.
The next few weeks should answer the question of whether the eurozone's fourth largest economy will ask for a bailout, accept a monitoring programme from the EU/IMF, and trigger the ECB buying Spanish bonds on the secondary market.
That expectation has helped keep Spain's borrowing costs down in recent weeks. Uncertainty could trouble the markets once again.
General strike
The Greek government will try again to reach agreement on savings of 13.5bn euros. If the governing coalition can agree on where the axe will fall then it should open the door to it receiving its next loan of 31bn euros.
Here's the test. The cuts, which will fall mainly on the public sector, will be challenged on the streets.
On Wednesday, the first general strike has been called since Antonis Samaras became prime minister. It will reveal just how prepared the Greeks are to accept more austerity.
With Greece too there is a mood to offer concessions as long as it does not involve more money.
French Prime Minister Jean Marc Ayrault said over the weekend that "the answer must not be a Greek exit from the eurozone".
"We can already offer it more time - on the condition that Greece is sincere in its commitment to reform."
Sincerity, in the past, would not have been enough to have impressed the Germans.
Then, on Friday, France will finally reveal how it intends to reduce its deficit to 3% by next year.
More of that later in the week but, even though the eurozone has been in calmer waters in recent weeks, these remain difficult times for many eurozone governments either in recession or stagnating.