Sir Nick Faldo drives on in business world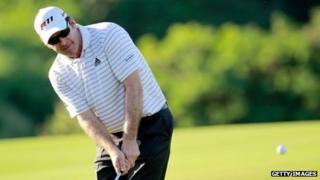 Golfer Sir Nick Faldo won six major titles in a top-level career stretching over more than three decades, making him the most successful British player since World War I.
The Englishman is also the most successful Ryder Cup player ever, and this week will be commentating on the latest Europe v USA clash for the BBC.
But commentary work is only one metaphorical club in his bag, as the former tour professional looks to move from action on the fairway to that inside the business boardroom.
As well as broadcast commitments, the 55-year-old has interests in golf course design, playing apparel, youth training and writing books.
"I believe in keeping busy - I meet people in their mid-80s who are still doing their thing, and I have made it a goal to still be active in my 80s," he says.
"I find I enjoy business, and I mix that with time for my family. The bottom line is that I have a pretty good deal, and work for six months a year."
Design business
Commentary work has also seen him employed as an expert summariser for CBS Sports, and gain a regular spot on NBC's Golf channel.
Like many golf greats, such as Jack Nicklaus, he also has a love of designing golf courses, and that work has taken him around the world.
"The design business has been good," says Sir Nick, who is now based in the US.
"It was a genuine passion of mine. As an 18-year-old in Welwyn Garden City I would draw up courses of my own.
"We have been in business now for 12 years, and have slowly expanded. It was all going well until about five years ago, then the world slowed down."
That work has taken him as far as South East Asia, with projects in countries such as Vietnam and Cambodia.
He is also pursuing design opportunities in both the Mediterranean and Eastern Europe, and last week was in Italy for the KPMG Golf Business Forum to explore openings in these markets.
"Eastern Europe want to understand more about the world of golf," he says. "There are things bubbling under there".
He adds: "The world of golf is still important when it comes to resort and residential development.
"We [designers] are ready to go, ready to be up and running again."
Another venture currently taking up a lot of his time and attention is his new golf apparel business, Claret & Green.
It is named after the three claret jugs he was given for his trio of British Open wins, and for the three green jackets presented for his three wins at the US Masters.
His merchandise features these two colours, as well as six stripes to denote his number of major wins.
Faldo designs the clothing himself. It is being developed in the US under licence to Bernette Textile and he is currently in talks with major American retailers about carrying his lines.
And he sees many similarities between the worlds of business and golf: "It is the same process - an assessment of the situation, communications, decision, and then total commitment," he says.
"That formula applies to both business and golf. You have to respond to situations in the same way - it is about making a plan."
Global golf
On the youth player development side, he has two tournament circuits - the Faldo Series and Faldo Series Asia, as well as his Faldo Academies offering high-class instruction.
The tour series involve thousands of young people from around the globe competing at venues across the world.
Already well established in Europe, Asia and South Africa, the series will be introduced to the US next year, where it will also be televised by CBS.
"Nepal has just been added to the [Faldo] series," says the PGA Tour 2012 ambassador of golf in recognition of his work in promoting the game, including in Asia.
"We have taken the series to places across the globe and to places such Nepal, Cambodia, and Brunei."
Among the young players who have come through Sir Nick's ranks is rising British star Rory McIlroy.
"With a bit of luck I passed on a bit of wisdom somewhere," says Sir Nick.
'Great event'
All eyes will be on McIlroy during this weekend's Ryder Cup, an event in which Faldo excelled, having won the most points ever of any player on either team.
He also represented Europe a record 11 times as a player and once as captain.
"We are very lucky in golf - an individual event - to have this great team event," he says.
And Sir Nick says he was also lucky to be part of such a successful European era in the 1980s and 1990s.
It was a time of great players of the calibre of the illustrious Severiano Ballesteros, and when he partnered first Ian Woosnam and then Lee Westwood.
"We played some great golf in those days," says Sir Nick, who for this year's event in Chicago is predicting the first-ever 14-14 tie.
"There is only a point in it, they are so evenly matched, which is why I have gone for a tie," he says.
And he believes golf has a healthy future, with a great boost coming from its inclusion in the 2016 Rio Olympics.
"We are trying to create as many opportunities as possible for young players," he says.
"Golf clubs are becoming better places, youth programmes are becoming better.
"But you have got to have commitment. You have to be motivated - and commit yourself as an individual."