Spain in crisis: Broken visions dot Galicia's landscape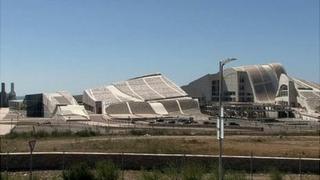 High on a hill on the outskirts of the ancient pilgrimage centre of Santiago de Compostela stands an extraordinary complex of buildings.
Their sweeping curved roofs, clad in hand-quarried stone, were designed to look like they had erupted from the ground.
Their scale and design are quite breathtaking. But this is no cathedral.
It is Galicia's extravagant City of Culture: commissioned in the Spanish boom years, but still to be completed and four times over its original budget.
"It's quite difficult to compare the times now with ten or fifteen years ago," says Llatzer Moix, an author who has written about Spain's obsession with grand architectural projects.
"We were living in a bubble related to the huge boom in construction."
With money apparently no object, every region in Spain wanted its version of the hugely successful Guggenheim Museum in Bilbao. And Galicia, in the north-west, was no different.
"It was in order to make cities better in cultural terms but also competitively, in economic terms," Mr Moix explains.
"But then suddenly the bubble exploded and, well, we are now in our poor condition."
And the regions are paying the price, wondering how far and how fast the budget axe will fall.
Vanity project
The Galician government continues to support the original ambitions of the City of Culture, despite criticism that it has become a vanity project which is no longer affordable.
And it is keen to point out that Galicia's finances are healthier than some.
"But the whole philosophy of public spending in Spain has changed," argues the head of the regional government, Alberto Nunez Feijoo.
"The regions aren't immune. We have a firm strategy in place to control public deficits."
But other regional governments - who are not politically aligned with the central government in Madrid - are taking a tougher line.
Both Catalonia and Andalucia have resisted efforts this week to steamroller them into budget cuts.
The Catalan government wants more time to make changes, even while admitting that it may soon be unable to provide some basic public services.
"It's not time to discuss, it's time to deliver," Mr Nunez Feijoo retorts, expressing confidence that his friend Mariano Rajoy, the prime minister in Madrid, can extricate Spain from its budgetary mess.
'Pork barrel schemes'
But the nature of the Spanish political system makes that more difficult, and Galicia provides another good example of that.
On a windswept stretch of the Atlantic coastline, a few miles from the city of La Coruna, sits the skeleton of a vast new port.
It was designed - in the wake of the 2002 Prestige oil tanker spill - as a modern petrochemical hub well away from the city.
Eventually it could make money and create jobs, but at the moment there are no proper road or rail links leading to it, and in times of austerity there are few funds to provide them.
But by and large Galicians don't seem to be complaining.
"The funding for this place doesn't come from Galician taxpayers," explains Prof Diego Varela of La Coruna University, as we look down at the empty port complex and the ocean beyond.
"In this case the port received funding from the European Union and also the Spanish state."
Which makes it a pretty good deal for Galicia. But critics say there are too many similar "pork barrel" schemes scattered across the country - prestige projects that enhance the status of local politicians.
In this highly decentralised country, the regions account for nearly 50% of national spending, and now they are haggling over how to take their share of the cuts.
"The regions are big spending machines," says Prof Varela, "because they have the competencies for education and health, but they don't have a corresponding fiscal responsibility.
"They don't raise the funds that they use for these services, so for them it is always difficult to reduce spending because they are not responsible for taxation."
No miracles
Back in Santiago de Compostela, in the shadow of the great cathedral reputed to be the burial place of St James, apostle of Christ, local trade unionists have gathered for a demonstration.
They have come to protest about cuts in public spending - a reminder of the resistance in some influential quarters to too much change too quickly.
There are few expectations of economic miracles in this holy city, just a hope that things won't get much worse.
"Times are really hard here," says a teacher named Fernando.
"Twenty thousand young Galicians have had to leave, they've emigrated to Europe, Germany, the Netherlands, because there are no jobs at home."
And the uncertainty looks set to continue, because this is not simply a crisis of excessive regional spending.
There is the struggling banking system, the property sector in crisis, and a deepening recession as well.
There are some causes for hope. Exports, for example, are doing well.
But the Spanish economy is simply out of sync with many of its eurozone partners - and to survive in the single currency wages will have to come down, and services will have to be cut.
For Spain's less developed regions - Galicia included - that will be a tough adjustment, and it will not be achieved without a political fight.
It is all adding to fears that the Spanish economy could soon need further financial assistance from abroad, some kind of bailout which could stretch the eurozone to the limit.