Roberto Maroni new leader of Italy's Northern League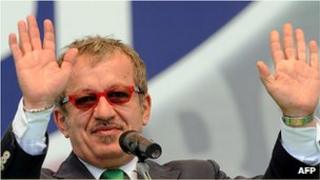 Italy's right-wing Northern League has elected ex-Interior Minister Roberto Maroni as its new leader, replacing the scandal-hit Umberto Bossi.
Mr Maroni pledged to "clean up" the party following a series of corruption scandals, which have seen its popularity dive.
The Northern League is the biggest opposition party in parliament.
It hopes opposition to Prime Minister Mario Monti's reform programme will win it votes at next year's election.
The party has long demanded more autonomy, or even secession, for northern Italy, which it says heavily subsidises the south.
It is also known for its anti-immigration policies. Mr Maroni piloted tough anti-immigration measures into law when he was interior minister during the League's coalition with former Prime Minister Silvio Berlusconi.
In a speech to thousands of party supporters in Milan, Mr Maroni admitted the corruption scandals had hit the party hard.
"We have gone through some difficult moments and it will not be easy to win back the support of those who are no longer voting for us because they say we are like every other party," he said.
He compared southern Italy to Greece, saying it had repeatedly been bailed out by the richer north.
The north "has its own Greece that has strangled us, that we have always helped out. It's time to say enough is enough", he said.
He also raised the possibility of Italy leaving the euro voluntarily.
Self-declared honesty
The party's founder, Umberto Bossi, was forced to resign as leader of the party after being accused of misusing public subsidies to pay for perks for himself and his family.
His two sons, Riccardo and Renzo, are also under suspicion of misusing public funds.
The allegations have damaged the party, which had a self-declared reputation for honesty and came to prominence when other Italian parties were mired in corruption scandals.