Five genetic changes that could allow bird flu pandemic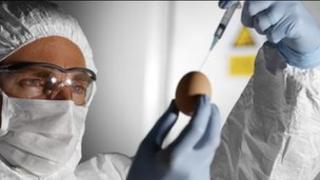 A few of you may remember that this blog started life with the unlikely title 'Fergus on flu' during the swine flu pandemic.
It has since undergone a few changes to its present form. So I could hardly ignore some long-awaited and important research on H5N1 bird flu.
Researchers from the Erasmus Medical Centre in the Netherlands have identified five genetic mutations that could allow the H5N1 virus to spread rapidly among humans.
The work was in ferrets which are considered the best animal model for influenza research. I have written about ferrets and flu before.
Publication was delayed for several months after a US agency expressed concern that it might be useful to bioterrorists.
The issue provoked huge debate among the scientific community as to whether it was right to censor research. Eventually the US government and the journals Science and Nature agreed that the papers from teams in Rotterdam and Wisconsin should be published in full.
Last month Nature published its H5N1 research and now that's been followed by a series of papers in the journal Science.
Together they set out the potential threat of an H5N1 pandemic and how to prepare for it.
My colleague Pallab Ghosh has a summary of the Science research which you can read here.
Two of the five genetic changes that would be needed have already been found in avian flu viruses. But researchers could not say how likely it was for the other three mutations to occur.
H5N1 remains almost exclusively a disease of birds. Since it was first spotted in Hong Kong in 1997 it has caused millions of deaths in poultry.
The virus can spread to humans after close contact with infected birds, but does not spread from person to person.
There have been 606 confirmed cases in humans since 2003 and 357 deaths.
The potential for a pandemic of avian flu is considered by the World Health Organisation as one of the greatest potential threats to global health.
So is the world a safer or a more dangerous place now that these papers have been published?
The journals involved argue this data will allow scientists to monitor the threat from avian flu and work on preparations for a potential pandemic. That view is widely shared among scientists.
Prof Geoffrey Boulton, Chair of the newly published Royal Society report on Open Data, said: "The decision, after careful scrutiny, to publish this avian flu research is a good example of how worries about threats of misuse can be balanced against potential benefits by spreading awareness that may be vital in combating natural outbreaks".
Virologists hope the legacy of this controversy will be a renewed effort to plan for the next flu pandemic, with particular emphasis on vaccine research.
H1N1 swine flu turned out to be far less lethal than feared. But there is concern that an H5N1 pandemic would be far more deadly.