Frank Carson: Your memories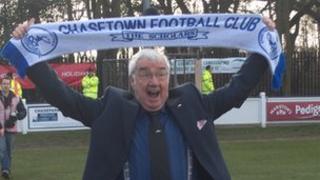 Northern Irish comedian Frank Carson has died aged 85.
Carson had suffered from poor health and his family said he passed away at his home in Blackpool, Lancashire.
BBC News website readers share their memories of the comedian.
"Frank is a director at Chasetown FC and being a Chasetown supporter of 27 years, I made sure I was one of the first in the ground to get a spot at the front.
I was talking to the Chasetown manager and close friend Charlie Blakemore just before he was interviewed for TV. A radio station then interviewed Frank and after his interview was finished, my wife said "Great to hear a Northern Irish accent around here" and they chatted for a while, asking her which part of Northern Ireland she was from.
Frank said something about N.I. having beautiful women, before he posed for the photo." Paul and Pamela Mullins, Chasetown, Staffordshire
"I bumped into Frank Carson at baggage collection in Dublin Airport in 1994. He had a black hat on with the words It's A Cracker! upon it. When I said 'Hello Frank how are you?' he laughed, smiled and shouted out 'It's a Cracker!!' to the amusement of anyone within earshot. Lovely bloke and great entertainer he was a cracker." Dave Boni, Hilton Derbyshire, England
"I met Frank when we were at the Showbiz Ball on 5th Feb 2011. The evening was held in the Thistle Hotel Glasgow. Frank was the guest speaker and helped raise money for the Scottish showbusiness benevolent fund. He joined us at our table for a good hour or so after he had finished speaking. He was a lovely man. Still sharp as ever and had us all in stitches!" Nicola Rose
"I met Frank Carson when I was 11 at Butlins in Pwllheli. He was the resident comedian and used to MC the evening shows. I used to see him every morning when I went to the breakfast hall. He would walk along with us talking to my Mum and Dad, always cracking jokes. I remember my Mum and Dad crying with laughter at the evening shows. I saw him shortly after this on Opportunity Knocks which gave him his big break. Frank was a really funny man who had the gift of being able to make people laugh." John Evans, Liverpool, England
"He had me up on stage at a pantomime in Belfast as a child and had the audience sing happy birthday. Gave me a present too! Been a favourite ever since." Iain McGill, in Edinburgh, Scotland
"Frank did many events for us as a family and through our work: my 21st, my dad's 50th and 60th, my wife's 40th and several company events for us. He was a great man, always working hard for charity. He will be greatly missed." Paul Baines, Bath, England
"I have a very lovely story about Frank Carson who I had the joy to meet on three occasions, twice in Belfast and once whilst I was living in London when he was rehearsing for a pantomime which he would be performing at the Belfast Opera House that Christmas, I think it was around 1982.
When I lived in Belfast, I went to a club/hotel night where Frank was a a guest speaker, he got a bit merry and was really funny and friendly. He spoke to everyone including me and was a real laugh.
Years later I moved to Chiswick in London. I was about 22 and single at the time and went to a little café for lunch on my own. Frank walked in and I recognised him but knew or at least thought I knew he wouldn't know me. He kept looking over but I didn't say anything. When he was about to leave he said "hello", I said hello back and he said, "You're from Belfast aren't you?" I said how do you know that and he said "You have those bright blue Irish eyes."
He told me what he was doing in London and we chatted for a while. He said "you must do me a favour and come see me in pantomime when you're next in Belfast and I will show you backstage." I said yes and later that year went to see it.
I didn't think for one moment he would remember me but he did. I sent a note backstage and he gave me a tour around and I got to meet the cast. It just highlights what a lovely down to earth guy he was. I am so sad that he has died but he had a good life - full of giggles. It's very sad he is no longer with us. He is definitely a legend! " Aileen Thomson, in Kent, originally from Belfast
"We (a trio of part time musicians) were booked to entertain at a doctors/nurses Christmas party at The North Devon District Hospital in Barnstaple many years ago and Frank was doing the Cabaret spot. He sat on our table whilst we were waiting to 'go on'. A very pleasant funny man off the stage as well as on! In fact he was pinching my chips off my plate as he was talking to us! God Bless You Frank. Give 'em hell!" Rodney Jenkins, Bideford, North Devon, England
"I met Frank on a few occasions. Once in a pub in Belfast City Centre and Frank had the whole pub sitting around him as he told non-stop jokes for two solid hours.
The craic was mighty! I met him again as recently as last year when he performed at a social club in Birmingham along with the group The Ivy League. There were around 250 people there, he was top of the bill - he was in full flow, drinking champagne.
He spoke fondly of his time in Belfast and still had the old sparkle in his eye. If you're young or old, if you'd met him or not, you'd like him and remember his catchphrases. He'll be sadly missed by all.
He was so full of life and had time for everyone, he would talk to everybody from the cleaner to a manager and he never lost his Belfast accent. Anyone who met him, well he had time for everyone, it was non-stop laughing with Frank." Dessie Flood, Birmingham