'Stolen' $9m jewels found in drawer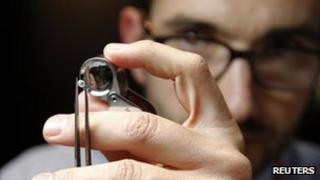 Five years after their disappearance, jewels thought stolen from the wife of the US ambassador to the Netherlands in 2006 have been found in the Hague.
Dawn Arnall realised her 7m euro (£5.9m; $9.3m) gems were missing months after staying in a Dutch hotel.
Unknown to her, the jewellery had been found and was held for safekeeping by the hotel, AFP reports, before being given to an employee as unclaimed.
The employee, assuming the items were costume jewellery, forgot about them.
Only after she recently found them in a drawer and took them to a jeweller for valuation did their true worth emerge.
They were then handed in to police and have since been returned to the US.
Mrs Arnall, whose husband Roland was the US ambassador to the country prior to his death in 2008, had received an insurance payout for her loss.
It is not known if the Dutch hotel employee can expect a finder's reward from the insurance company for returning the jewellery.