Canada security services 'can use torture material'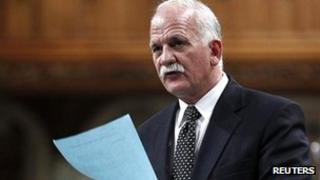 Canada ordered its intelligence agency to use information that may have been extracted through torture if public safety is at risk, it has emerged.
The directive, obtained by Canadian media through freedom of information laws, was issued in 2010.
It applies only in exceptional cases and does not urge security services to condone or engage in torture, the public safety ministry says.
But opposition politicians and human rights campaigners condemned the move.
Under a 2009 order issued by the Conservative government, the Canadian Security Intelligence Service (CSIS) was told it must not knowingly rely on information derived from torture.
But the 2010 directive by the public safety ministry adds that it may not be possible to determine how a foreign agency obtained information and in "exceptional circumstances" it may represent "an unacceptable risk to public safety" to ignore it.
'Repugnant order'
In such cases, CSIS should "make the protection of life and property its overriding priority" and share information with other agencies where appropriate, says the order - obtained by the Canadian Press news agency.
In parliament, Public Safety Minister Vic Toews asked: "Information obtained by torture is always discounted, but the problem is, can one safely ignore it if Canadian lives and property are at stake?"
An MP for the opposition New Democratic Party, Jack Harris, said the policy was "repugnant" and would only encourage countries that used torture, Reuters news agency reported.
Liberal Party leader Bob Rae questioned the legality of the minister's instructions, saying information based on torture was neither reliable nor permissible.
The London-based human rights group Amnesty International, also criticised the move.