Calling the commissioner: PM's new police set-up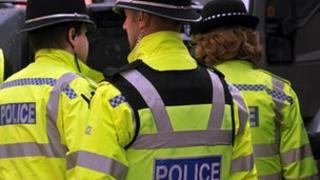 Now here's a job opportunity you won't find in the papers...
Salary £75,000.
Job secured for four years and the option of a further four years.
And the perks? Your own police force.
The job on offer is for a police and crime commissioner.
There'll be one for each county force in England and Wales.
They won't replace the chief constables; the chief will still retain day-to-day operational responsibilities.
But the commissioner - directly elected by local voters - will shape force strategy, budgets and ask those awkward questions of the police.
Accountable policing
It's one of David Cameron's big ideas.
"It's about time we had more accountable police forces in our country. That's why we want there to be police commissioners," he told MPs.
"So when they do a good job calling the police to account and they're fighting crime in the way local people want, they get re-elected and if they do a bad job they get thrown out."
But some senior East Midlands Conservatives aren't so convinced.
Cllr Phillip Hickson runs Derby City Council and his county's Police Authority, the committee of community representatives and elected councillors that'll soon be replaced by a commissioner.
"When we act as a police authority, we set the politics aside and leave them at the door," he said.
"But these new police commissioners will come with a manifesto. He or she will say 'this is the manifesto I was elected on, Chief Constable'; now you go and deliver these things.
"It's certainly going to up the ante," he told me.
"There is also the danger of the commissioner looking forward to the next election rather than doing what's best in the long run.
"You'll have the politicisation of the relationship between the commissioner and the chief constable."
Political edge
From one Tory who is sceptical about this Conservative policy to a familiar Labour voice from the East Midlands, who's enthusiastically in favour.
I found the former Sherwood MP, Paddy Tipping, back on the political beat at a police station in the Sneinton area of Nottingham.
He's not only embracing the Conservatives' big idea of elected police commissioners, but he is now planning to run in November's election for the Nottinghamshire job.
He's highly critical of the existing police authorities.
"The police authorities have no real focus. There's a huge difference between a police authority making policy and a police commissioner who's directly elected and is more accountable to local people," he said.
"I'm already out and about in Nottinghamshire and people tell me they want more neighbourhood police tackling anti-social behaviour and the type of crime that can really blight a community.
"Nottinghamshire police have made improvements but there's a lot to do."
And it's that political edge that worries the Police Federation.
Costs and benefits
Phil Matthews is Federation chairman for Nottinghamshire and represents 2,100 police officers.
"With elected police commissioners, they're going to have temptations to meddle with operational policing," he said.
"It's a real concern. You've then got political interference and yet we are supposed to be independent under the crown."
That's the sort of friction that others warn could lead to a serious bust up.
"The potential is for a level of conflict which is not good," said Cllr Jon Collins.
He wears two big hats - as leader of Labour-run Nottingham City Council and chairman of Nottinghamshire Police Authority.
"You end up with one individual elected on commitments that are inevitably about operational policing matters, when operational policing matters are really the responsibility of the chief constables.
"This project from the government is like their idea for elected mayors.
"It'll be hugely expensive and hardly a priority when our budgets are being slashed," he added.
Greater scrutiny and accountability is what the Prime Minister wants.
That's why our police will be getting a new investigator - the new Police and Crime Commissioner is on their case.