Two killed by storms in Alabama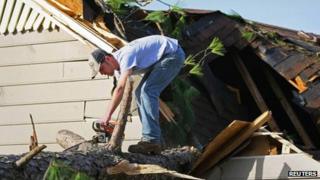 Two people have died in the US state of Alabama amid reports of tornadoes ripping through the south-eastern US.
A 16-year-old girl and an 82-year-old man died in the Birmingham area, according to a spokesman for the Jefferson County sheriff's office.
Tornado warnings were issued for parts of Tennessee, Mississippi and Alabama.
As the storm moved across the northern part of the county, several homes were destroyed and more than 100 injuries have been reported.
About 200 homes were destroyed in the storm, with about as many severely damaged, the Red Cross has said.
Alabama Governor Robert Bentley has declared a state of emergency as the rescue operation gets under way.
'Speechless'
Search teams have gone door-to-door in the town of Oak Grove, Alabama, where houses have been flattened, trees knocked over and roofs blown off as a result of the weather.
Amber Butler, a resident, said she hid in her sister's brick home as the storm approached. Her own home was destroyed.
"I'm just so speechless now, I don't know what to do. We've lost everything we had," she said.
Another resident, Stevie Sanders, hid in the laundry room while trees started cracking in the storm.
"You could feel the walls shaking and you could hear a loud crash. After that it got quiet, and the tree had fallen through my sister's roof," Ms Sanders said.
Tornadoes reportedly formed and touched down in the state around 03:30 EST (08:30 GMT) on Monday morning.
"Some roads are impassable, there are a number of county roads where you have either debris down, trees down, damage from homes," Yasamie Richardson, a spokeswoman for the Alabama Emergency Management Agency, told the Associated Press news agency.
In Clanton, about 50 miles south of Birmingham, rescuers were responding to reports that a trailer had overturned, trapping people inside, City Clerk Debbie Orange said.
The early morning storms also postponed a meeting in Montgomery, Alabama's the state capital - scheduled to focus on a study of Alabama's response to a system of deadly storms that hit the state in April 2011.
The April storm killed more than 240 people and destroyed hundreds of homes in the city of of Tuscaloosa.
The region has a history of tornadoes dating back to the 1930s.