Costa Concordia: Relatives search for the missing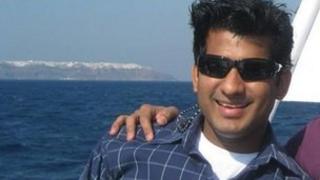 Many of the families and friends of those who remain missing from the stricken Costa Concordia have joined the search for their loved ones.
Some have headed to Italy, feeling they can do more on the ground, while others are resorting to social networks such as Facebook and Twitter to spread the word and assist in any way they can.
The hull of the luxury ship, which was carrying 4,200 people, was ripped open when it hit rocks late on Friday, just hours after leaving the port of Civitavecchia for a week-long Mediterranean cruise.
Officials have not yet confirmed the names of the dead although bodies have been found.
Meanwhile, a list of those missing which was posted on an Italy interior ministry site, is now being circulated online, yet still needs to be updated to reflect reports that at least of one of those missing - a German - has apparently been found safe at home.
Elodie Humenny, a friend of Mylene Litzler and Michael Blemand, two of the four French people still on the missing list, says she still has hope.
She told the BBC she had known the couple for two years after meeting Ms Litzler at the sports shop both had worked at.
She said she was shocked when she had heard what had happened to the ship and immediately tried to do what she could to find her friends.
"I set up a Facebook page and put their parents in touch with the television news programmes.
"Now we are trying to distribute my friends' photos all over France.
"We're also trying to get all the witness statements we can from people who might have been with them on the boat."
She said the couple had gone on the cruise to mark Mylene's birthday.
"It had been planned for quite a while and wasn't too expensive," she said.
She wants to try to find out as much information as possible about their last-known movements.
She said: "Last night I managed to get in touch with close friends of some people who were on the boat, but they hadn't seen Mika or Mylene, so everything remains pretty vague. We're still waiting for more information."
Mylene and Mika's families are planning to fly to Italy today.
Ms Humenny said: "I think Mylene's mother is in a really difficult state - they are very, very close. I think her father is trying to keep a cool head, because as long as there is no news there is still hope.
"They're finding it hard to get news, so I think that's why they're going to Italy. In any case we, their close friends, are giving them support and we're just holding onto what we have."
Responding to reports that some survivors were planning to take legal action over the evacuation and conditions on board during the tragedy, she said all talk of a lawsuit would have to wait until they had further news on her friends.
"We have talked to the parents about this; we've given them the number of the lawyer who is dealing with this. So if they want to sue it's their decision," she said.
Kevin Rebello is also another person waiting anxiously for news.
He flew to Giglio, in Italy, to try to find his brother Russel, and told the BBC he wasn't planning to return home to their distraught parents unless his brother was with him.
He said the Indian national had worked on the Costa Concordia as a waiter and has been with the company for five years.
Mr Rebello said: "The last I heard of him he was in November while he was waiting for a short transit. When he comes to Italy, he gives me a buzz and we speak for a few minutes until he leaves.
"He was supposed to be on board the Costa Concordia from 15 October just working continuously. They work for eight months and get a two-month break."
"I'm also concerned about the other families going through the same thing - how did this happen?"
Marco Castro in Miami said he was worried about Peruvian crew member Erika Soria, whom he had met and made friends with while on the Costa Concordia.
He told the BBC: "I left the cruise on the Monday and the accident was on the Friday.
"My friends and I are very concerned as we had developed a strong friendship with Erika. Erika even spent New Year's Eve with us as she felt we were just like her family.
"I cannot believe that she is still missing; she is so charming and such a nice person.
"I have been trying to keep an eye on the news and am trying to contact her room-mate Roxanne to find out more. I am so worried."
Hungarian violinist Sandor Feher's family had also flown out to the island to assist in the search.
On Tuesday, Eva Kuti Varga, told the BBC she was desperate for people to help search for the talented musician, while other family members and friends set up and joined a Facebook group dedicated to finding the missing.
But on Wednesday, she confirmed that Mr Feher's body had been found and identified by a family member.
Before the discovery, the creator of the Facebook group explained they had set up the site as they thought they had a chance to still find Mr Feher.
They said it would still be of help to the relatives of other missing people who had been on board the ship, saying: "We set it up because we were searching for Sandor.
"We were trying to get any information about his stay; trying to find survivors who might have seen him and the others.
"Even the search teams had been asking us about where Sandor was seen last, so could concentrate on those areas. This remains the same situation with the friends and family of the others.
"We still have to share this information; especially if it will help save somebody."