Abu Qatada deportation ruling at European Court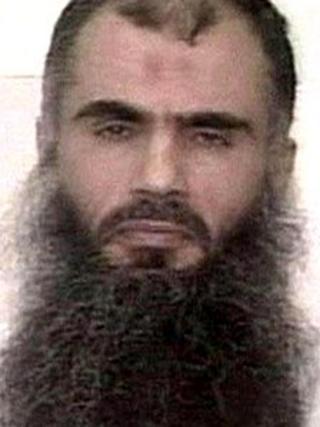 Radical cleric Abu Qatada will find out later whether he will be sent back to Jordan, where he has been convicted in his absence of terror offences.
Qatada, branded by a High Court judge as "truly dangerous" and at the centre of al-Qaeda-related activity in the UK, says he faces torture in Jordan.
But the British government has signed an agreement with Jordan intended to ensure he will not be ill-treated.
The European Court of Human Rights will rule later whether he can be deported.
In doing so it will decide whether the diplomatic assurance - one of five the UK has agreed with foreign governments - can guarantee Qatada's safety.
Father-of-five Qatada, 51 - real name Omar Othman - came to Britain in 1993 on a forged passport and is being held at Belmarsh high security prison.
The UK government has said he has "extensive contacts with senior terrorists worldwide" and videos of his sermons were found in the flat of one of the hijackers involved in the 9/11 attacks on the US.
But Qatada says his conviction for planning bomb attacks in Jordan, for which he received a life prison term, was based on evidence obtained through torture.
'National security'
The UK's memorandum of understanding with Jordan, signed seven years ago, sets out that citizens sent back there will be treated humanely and dealt with fairly by the courts.
Law Lords backed the government in February 2009, overturning a Court of Appeal ruling that there were reasonable grounds to suggest evidence against Qatada could have been extracted through torture.
Former Lord Chief Justice Lord Phillips added that evidence of torture in another country did not require the UK "to retain in this country, to the detriment of national security, a terrorist suspect".
The home secretary at that time, Jacqui Smith, said their ruling vindicated the government's efforts to remove dangerous individuals.
But Qatada's lawyer, Gareth Peirce, criticised the ruling as a "backwards step" in Britain's willingness to confront torture.
Human rights groups Amnesty International, Human Rights Watch and Justice have also raised concerns with the European Court over the practice of relying on diplomatic assurances to justify the transfer of individuals at risk of torture.
Campaigners say 15 other individuals are currently appealing against deportation.