RBS shrinks investment bank by a quarter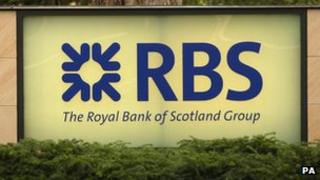 For a bank that has shed 30,000 jobs across its worldwide operations over the past couple of years, most of them in the UK, a further 3,500 departures may not seem massive.
But it still represents huge numbers of people leaving the semi-nationalised bank, most of them this year.
And perhaps as significantly, there is a withdrawal by RBS from an entire loss-making business, the trading of shares and advising companies on takeovers.
RBS will still be big in investment banking - and will still pay big bonuses - but will concentrate on trading foreign exchange and bonds, and helping big companies manage their finances and cash.
However, what it calls its Global Banking and Markets division will be broken up into a new purer "markets" business and an "international banking" operation.
Even those residual operations will be shrunk, as the amount that its investment bank borrows and lends will be cut by £120bn, or more than a quarter, over three years.
And RBS will borrow £75bn less on unreliable wholesale markets.
The overall aim is to improve profits and reduce risks. Which matters to most of us, since taxpayers are sitting on losses of £26bn on the £45.5bn they invested in RBS to rescue it (and see my earlier post).