Japan's Homare Sawa is FIFA women's player of the year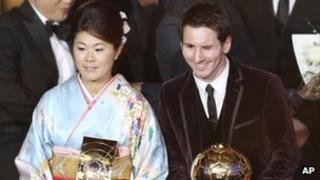 Homare Sawa, captain of the Japanese women's football team, has been awarded the 2011 women's player of the year title.
Ms Sawa, 33, led her team to win the World Cup last year.
She knocked Brazilian forward Marta off her five-year reign to win the prize at the FIFA Ballon d'Or awards in Zurich, Switzerland with 28.5% of the votes.
The Japanese team received a hero's welcome home in July 2011 after a victory over the US in the final.
The triumph was a much-needed morale booster for the country, which was recovering from the devastating earthquake and tsunami in March.
American player Abby Wambach, who played in the final match against Sawa, was also in the running for the award.
The game was widely watched in both the US and Asia.
The Japanese national team's coach, Norio Sasaki, was also honoured as best coach of a women's team for his role in the World Cup victory.
He told reporters that Sawa was ''an iconic figure'' for the Nadeshiko (the women's team).
"She perfectly symbolises the kind of football that our team tries to pull off,'' he said.
Dressed in a kimono, the traditional Japanese dress, Sawa received her trophy from singer Shakira at the awards gala.
''"I am proud to be sitting here today alongside such legends as Marta," she said at a news conference.
Barcelona and Argentina forward Lionel Messi, 24, received the FIFA Ballon d'Or (or world player of the year) award for the third time in a row.