Amanda Knox seeks book deal to tell murder trial story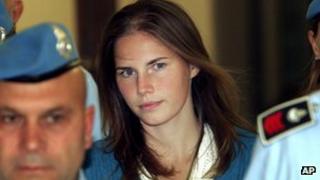 Amanda Knox has hired a top lawyer and literary agent to help her sign a book deal, a spokesman for the family says.
Washington DC-based Robert Barnett will represent her in talks with publishers.
He has helped broker book deals for US Presidents Barack Obama, Bill Clinton and George W Bush, as well as former British Prime Minister Tony Blair.
The 24-year-old was cleared in October of killing her roommate, British student Meredith Kercher, in Perugia, Italy, in 2007.
Knox, who served four years of a 26-year sentence, has not granted any interviews since returning to her hometown of Seattle, in Washington state.
Mr Barnett is a high-powered attorney and behind-the-scenes operator who also negotiated former Alaska Governor Sarah Palin's contract with Fox News.
He will speak for Knox during negotiations with publishers and help her evaluate other opportunities, according to Knox family spokesman Dave Marriott.
Experts say she could land a seven-figure book deal for her story.
Knox's parents reportedly spent huge sums of money on lawyers and publicists, as well as travel and living costs, during the fight to free their daughter.
Although Knox was cleared of murder, she was found guilty of defaming bar owner Patrick Lumumba, whom she accused of Ms Kercher's death.