First-time protesters join public sector strikes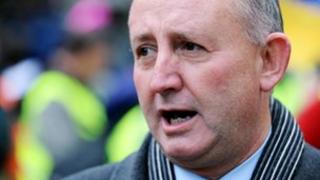 They were billed by trade unionists as the largest strikes in a generation and many of the TUC's estimated 25,000 marchers on London's streets were taking industrial action for the first time.
The group of head teachers featured suits, ties and smart overcoats as they took their places in the procession.
Their union, the NAHT, had not been on strike for 114 years.
Chris Hill, head of Hounslow Town Primary School in west London, said it was also the first time that all of that school's staff were striking.
"It's not a decision we take lightly but we have to take a stand," he said.
He said while his age meant the pension proposals would not directly affect him, they would adversely hit the profession for many years by making recruitment more difficult.
Also among those new to strike action were London Ambulance dispatchers and paramedics, who had not been on strike since the 1970s.
"It was a very difficult decision and not spur of the moment, it's been coming for a while," Carl Ashworth, 32, a dispatcher based at Waterloo explained.
Eroding pensions
The further pay freeze and job cuts announced in the Chancellor's Autumn Statement on Tuesday appeared to galvanise many people into striking at the last moment.
"A lot of people didn't want to strike but felt very strongly about the issue. It sends a very poor message to hard-working people who give up their nights, weekends and Christmases," he said.
Despite reports the service was struggling to cope, he stressed they had planned enough cover to ensure the capital was safe.
Jo Doel, 35, a teacher in Ealing, voiced a message many of the strikers wanted to send to the government: "It's not fair that they want us to work longer, pay more and get less".
Younger members of the march said the government's proposals had made them consider pensions long before they were due to draw theirs.
Sean Gilday, 25, a patent examiner for the Intellectual Property Office, said: "I worked out I'm due to retire in 2052 but who knows, they add on another year every year.
"It seems a long way off but they're just eroding it and it's why we need to draw a line."
Show of force
The TUC hoped the action would see two million public sector workers across nearly 30 unions on strike. The majority of banners on display in London were provided by the big trade unions - Unite, Unison, the NUT, the PCS - but there were many homemade efforts.
One of the more creative banners - which simply stated, "give my mum a pension," was drawn by Raphy Hardy, six, whose mother Jessica is a teacher at a sixth form college.
"It's George Osborne being flown into a volcano by a pterodactyl," he explained.
The march's start was delayed due to the numbers involved and initially, progress was slow but the wait was eased for some by members of UK Uncut handing out cups of "solidari-tea".
Once on the move, the air was soon filled with chants and whistles, some calling for the country's leaders to "go back to Eton" in rather colourful language. Meanwhile, a group carrying vulture-shaped placards provided a reggae soundtrack.
The police presence was heavy - one senior officer was heard saying it was the largest number of public order officers deployed on a march, but officers seemed relaxed as they accompanied the marchers.
The numbers provided a clear show of force. At the Strand, two separate sets of barriers backed by police horses blocked the road to the east, halting protesters with thoughts of diverting towards the City.
Roads leading to Covent Garden were guarded, while Trafalgar Square featured a wall of steel which made for a remarkable sight alongside the tourists and attractions.
'Serious decline'
Meanwhile, there was a sense among many that the march was an opportunity to voice frustration with a series of government decisions.
Union members from Cafcass - the children and family courts advisory service - said they had seen a serious decline in work and conditions since the cuts. Offices had closed and users were expected to travel long distances for services, they said.
"They are denuding services for families," Glyn Hockney said.
"The pensions are an attack on the people who work to help the country. You don't see MPs and chief executives being expected to take similar cuts," Theresa O'Mara added.
Protesters were filing past the start line in Lincoln's Inn Fields an hour after the march began, as the weather turned from sunshine to drizzle.
But as it drew to a close at Victoria Embankment, marchers carefully placed their used placards in dustbins as they left.
The sound of the ensuing rally could most probably be heard in Downing Street, just a few hundred metres away.