Taliban 'has Afghanistan loya jirga security plan'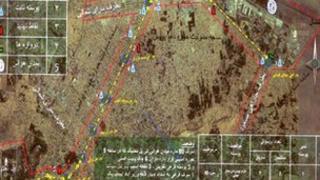 The Taliban in Afghanistan says it has obtained a government security plan for the grand assembly of leaders, or loya jirga, which opens in Kabul this week.
The document includes what appears to be a detailed list of security arrangements for senior figures.
Afghan security officials have denied that the document is genuine.
Meanwhile, a suicide bomber has been killed while attempting to attack the tented site where the 2,000 members of the loya jirga will meet.
The attacker was shot outside the tent and died after his explosives vest detonated, the BBC was told.
No-one else was killed or injured, officials said.
'False claim'
The 27-page plan published on the Taliban's website includes what appears to be a list of security arrangements for Afghan ministers and the President, Hamid Karzai.
There is a rundown of security officials with their titles and specific responsibilities and what looks like a police map, the BBC's Orla Guerin in Kabul says.
The Taliban said it had acquired the documents "by means of its personnel embedded inside the enemy ranks".
But Afghan officials - including a senior intelligence official talking to the BBC - said this was not the government's plan.
"If this document were real, they would have used it to attack the loya jirga and later leak it out. If it's real why would you publish it?" said Abdul Rahman Rahman, the deputy interior minister responsible for security and police matters.
Nato forces spokesman Lt Col Jimmie Cummings was quoted by the Associated Press as saying that a signature on the document supposedly belonging to Lt Gen Curtis Scaparotti, deputy commander of US forces in Afghanistan, did not resemble his actual signature.
If the security plan was in Taliban hands, it would be a major threat to the more than 2,000 politicians, tribal elders, community leaders, businessmen and civil society representatives due to attend the loya jirga.
The Taliban has threatened to attack the assembly, which starts on Wednesday, branding it a "slave jirga".
There are two items on the agenda for the meeting - reconciliation with insurgents and Afghanistan's future relationship with the United States.