On the frontline of India's encephalitis war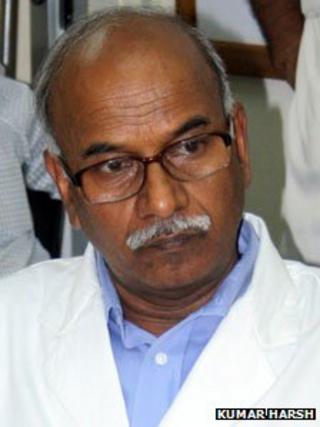 Over the past month, we have been reporting on the deaths of hundreds of people in a fresh outbreak of encephalitis, in the northern town of Gorakhpur.
But death stalks the children of this chaotic border town in Uttar Pradesh unfailingly every monsoon. And for nearly four decades, Komal Prasad Kushwaha, a bespectacled and soft-spoken doctor, has seen hundreds of children die under his watch.
As a senior paediatrician at the Baba Raghav Das Medical College, Dr Kushwaha has been on the frontline of a decades-old battle against encephalitis, which has claimed some 6,000 lives at his hospital alone since 1978.
Horror stories are nothing new to Gorakhpur. In one case in 2007, local police picked up a dairy farmer and owner of a blood farm - "a ruthless modern-day vampire", according to one account - who locked up men and extracted blood to sell it in the black market.
But it is encephalitis that has been the leitmotif of Gorakhpur's unending misery.
Virulent outbreaks
Winter is upon Gorakhpur, but children are still dying of the disease. More than 500 have died at Dr Kushwaha's hospital in the past few months and "two to three are still dying every day".
"The worrisome thing is at least one child is still being admitted with encephalitis every day. The intensity of this year's outbreak is unimaginable, even for me," he says.
Over the past few months, I have had several conversations with this affable, hard working doctor. Down bad phone lines, I have asked him how it felt to be a doctor seeing so many children dying. What inspires him to stay on and fight another day?
Dr Kushwaha's story highlights the failings of the Indian state. It shows how things have improved, but not fast enough, despite a $14.3bn federal rural health mission. And how it takes a calamity and media outrage to shake the authorities into action.
"In the early days, the children would simply die because we lacked basic equipment," Dr Kushwaha says.
"There were no catheters, no central oxygen supply. We had to manually cart oxygen cylinders to the ward, and it would be too late sometimes.
"Half the kids who came in would die. I remember we used to ask how many children we can save - it was like a competition among the doctors. If no child died during my duty hours, I would feel ecstatic."
Things worsened over the next two decades, with hundreds of children dying from the mosquito-borne virus, the patients arriving from far-flung villages and poor districts of the neighbouring state of Bihar. In 2005, in one virulent outbreak, more than 1,000 children died.
"It was the worst of times," Dr Kushwaha says.
"I remember a time in 2002. It was apocalyptic. Hospital staff, parents, attendants were busy carting oxygen cylinders from the store to the ward to save the children. Children were dying faster than we could reach oxygen in time."
That was when the state Chief Minister Mulayam Singh Yadav came visiting the hospital.
"I told him our children were dying because of lack of oxygen and suction devices. He sanctioned over 7m rupees ($140,000) so that we could buy life-saving essentials."
'Beautiful boy'
Things have improved since the late 70s - a central oxygen system has been put in place and drugs made available.
But children suffering from encephalitis continue to flood the ward and die, Dr Kushwaha says.
How do you, I asked him one day, break the news to parents that their child is dead? How do you do it, a number of times, every day?
"I don't have to announce it. The mothers look into my eyes and they know that their child is dead. I don't have to say anything really. They know we try hard. And they, by just looking at me, know when I have failed to save their child."
I asked Dr Kushwaha whether he had ever broken down himself.
"I remember it happened last year. A handsome boy was wheeled in. He was conscious. They had brought him to our hospital thinking that I would be able to save him. The mother said 'I want my child to be treated by you, nobody else'.
"I feared the worst. I thought I should give him gamma globulin, a costly drug and try to revive him. But we did not stock it, as the government had prohibited us from using the drug at the hospital. The next day, the child slipped into a coma and died. He was such a beautiful boy," the doctor said, his voice quivering faintly.
'No hope in hell'
Dr Kushwaha is one of India's leading authorities on breast feeding and could work anywhere. So why stay on?
"Many a time I have thought of leaving my job," he tells me another day. "But here I at least manage to save some life. We have halved the mortality rate due to encephalitis in my hospital. It's a tough battle, but it has to be fought."
"These children have no hope in hell if they go to private hospitals. They won't be admitted there because they can't afford the treatment. If people like me don't stay on here, more children will die."
So Dr Kushwaha stays on and fights with his fellow doctors to save the lives of the children in Gorakhpur.
There is also one silver lining with all the hard work: this year's outbreak and the resultant media outcry has helped shake up the administration again.
Dr Kushwaha's hospital is now going to get 24 new ventilators for children. Presently it has 21, the majority of which have been borrowed from other hospitals.
Most importantly, a new 1.2m rupee ($24,000), 100-bed hospital for children suffering from encephalitis on the same campus has been promised by next year, a key move towards saving more lives.
"You can never lose hope," Dr Kushwaha tells me. "Even when everything looks hopeless."