Premier Foods wins breathing space from lenders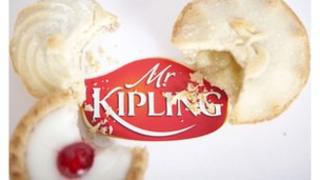 Premier Foods, the firm behind brands such as Mr Kipling, Paxo and Hovis, has won breathing space from lenders on its £1.27bn debts.
A "covenant test" - used by Premier's lenders to check on its financial health - had been due on 31 December.
It has been delayed until 31 March to allow time to renegotiate its debts.
Premier was at risk of failing the test, which requires it to show earnings equal to at least 2.7 times its interest payments.
The company issued a profits warning in October after its sales fell 3.6%.
If a company fails a covenant test, typically its lenders can declare it in default on its debts and demand full and immediate repayment - something that might precipitate bankruptcy.
Pension deficit
Michael Clarke, Premier's chief executive, said: "In recent weeks, we have set out our priorities and made significant leadership changes to strengthen our focus.
"We are now moving quickly to finalise our detailed growth plans to ensure we continue to build momentum in the business.
"This is an important step towards securing a longer-term financial foundation for the business."
Its debts include a £535m pension deficit.