Karzai terror warning as Afghanistan summit begins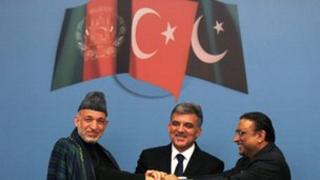 Afghan President Hamid Karzai has warned a key global conference in Istanbul that there will be no peace for his country without strong regional co-operation on "terror groups".
He said terrorist networks "outside of our border" were conducting a "merciless campaign of destruction".
Mr Karzai has regularly urged Pakistan to do more to curb militant activity.
Pakistan is one of 27 nations at the summit, which aims to chart a future for Afghanistan after Nato withdraws.
Islamabad denies it shelters or supports militants.
Aid agencies and non-governmental organisations (NGOs) are also taking part in Istanbul.
'Elusive'
Mr Karzai said as the conference began: "Terrorist networks are by far the major threat to Afghanistan's security.
"They continue to have sanctuaries outside of our border from where they conduct their merciless campaign of destruction.
"Unless regional co-operation is assured to address the core and root of this issue, peace in Afghanistan will remain elusive."
The summit is discussing security and development in Afghanistan against the backdrop of a Nato withdrawal that is expected to see all combat troops out by the end of 2014.
Mr Karzai is scheduled to announce a second tranche of provinces that will transfer security from Nato to Afghan forces. Afghan government sources said they included flashpoint areas in Helmand, Ghazni and Uruzgan. The first stage was announced in July.
The summit host, Turkish President Abdullah Gul, said: "To restore security in Afghanistan, genuine solidarity is a must.
"It is our obligation as neighbours to contribute to Afghanistan's peace, stability, security and wealth. It is also a matter of our common interest."
China, India and Iran are among other countries with envoys attending the one-day conference.
Iranian Foreign Minister Ali Akbar Salehi noted: "Ten years have passed since Nato forces went to Afghanistan under the pretext of fighting terrorism. Today we witness that the situation there has not improved."
Last month, President Karzai told the BBC that he believed elements of the Pakistani establishment were supporting the insurgency.
His comments came after several outspoken remarks from US officials that Pakistan backed the Haqqani militant network, blamed for a string of attacks against US and Nato interests in Afghanistan.
On Tuesday Pakistani President Asif Ali Zardari and Mr Karzai agreed jointly to investigate the murder of Afghan peace envoy Burhanuddin Rabbani in September. It was their first meeting since his killing.
Relations between the two countries were severely strained following the murder, which Kabul said was planned in Pakistan and committed by a Pakistani suicide bomber. It has also accused Islamabad of refusing to co-operate with the police investigation into the murder.
Mr Zardari said on Tuesday: "We want to be a responsible partner to bring peace to the region."
The summit also comes just days after the deadliest attack yet in Kabul against the Nato mission and after a car bomb targeted a UN building in the southern city in Kandahar.