Why China won't save the world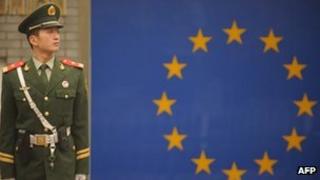 Is China's President Hu Jintao about to fish out his chequebook at the G20 summit in Cannes and, with a flourish, wipe away Europe's woes?
From all the breathless speculation you'd think that was on the cards. The talk is all about how "China can save the world", or ride in and "rescue the Eurozone".
Of all the G20 leaders President Hu may seem to be in an enviable position, with China's economy growing at about 9% a year and holding a war-chest of $3.2 trillion (£2tn, 2.3tn Euros) in foreign exchange reserves.
But it's worth considering that President Hu is not in such a powerful position. He's not about to "save" Europe - in fact he's probably as concerned as anyone else about the way Greece seems to be sinking deeper into the economic and political mire and the Eurozone may be heading for even more trouble.
Most of the hype about China's ability to influence the situation is coming from people commentating from outside China. What is being said here is very different.
"China can neither take up the role as saviour to the Europeans, nor provide a 'cure' for the European malaise," said the state-run Xinhua news agency at the weekend.
Drag on Europe?
To put things in perspective, for all China's rise, its economy accounts for less than 10% of global GDP at present, while the developed nations of Europe and America make up well over 50%.
It is Europe - even in a time of crisis - that does much to power China's rise, rather than the other way round. Europe, we all know, is China's biggest export market. Last year it bought 280bn euros of Chinese goods.
A new downturn in Europe would hit China hard. At the giant China import-export fair in Guangzhou this week almost everyone I spoke to said orders from Europe are falling and that's hurting China's exporters.
By contrast, some say, China is a drag on Europe. It sells far more to Europe than it imports from it, and that is not going to change overnight. Only Germany has serious trade with China, as it makes the machinery and motor vehicles Beijing is buying in large quantities.
China isn't investing much in Europe either - less than 1bn euros last year. That was little more than 1% of foreign investment in Europe, which pumped five times as much into China.
While many outside China view its leaders as strong, masters of a rising power, many in China see them as cautious, consensual, hemmed in by problems at home. President Hu has just a year left before he's due to step down, so he's unlikely to take radical decisions right now.
China is trying to slow its own economy, to control inflation, to unwind the massive investment and credit boom it used to get through the last global crisis, to keep a lid on rising protests. What would help Europe is if Chinese consumers bought much more, but that will take time to happen.
In the meantime Beijing has talked at various points in the past year or so about stepping in to help Greece, Portugal and Italy. But it has not done much, understandably wary about losing if it invests rashly now in the middle of a crisis.
China has huge holdings of euros and Europe is important to China, so it will invest, but on a clear-headed, commercial basis. Just don't expect China to save the world.