IAEA: China urges UN atomic watchdog to be tough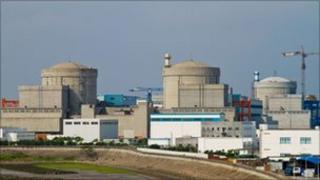 China has urged the UN's nuclear watchdog to help developing nations to build safer power stations.
Deputy UN envoy Wang Min also said the International Atomic Energy Agency (IAEA) needed to use its position to boost international co-operation.
He said Japan's Fukushima accident had put the industry in a "new situation".
China is the world's biggest builder of power stations, and officials have hinted that they would like to expand their building plans overseas.
The country has already built nuclear facilities in Pakistan, and earlier this year had suggested more countries could be interested.
Analysts believe Thailand, Vietnam and Malaysia would be keen to take up Chinese offers of nuclear help.
Mr Wang said the IAEA should "increase technical assistance to developing countries, improve newcomers' national nuclear infrastructure and promote the safe, secure and sustainable development of nuclear energy".
He added: "Facing the new situation after Fukushima, the agency should further strengthen its leading role in enhancing global nuclear safety and promoting relevant international co-operation."
Before the Fukushima disaster, China was building 27 new reactors - about 40% of the total number being built around the world.
But officials have since suspended giving approval to any new schemes, and have been carrying out checks on all of the country's existing power plants.
China currently gets only about 2% of its electricity from nuclear power from 13 reactors, but had launched an ambitious project to drastically increase those figures.