Egypt jails police over activist Khaled Said's death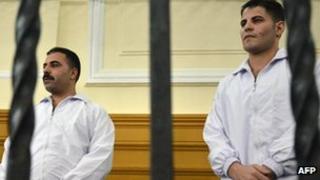 An Egyptian court has sentenced two policemen to seven years in prison for killing activist Khaled Said in June 2010.
His death sparked protests and an internet campaign credited with helping to launch the popular uprising that toppled former President Hosni Mubarak.
A lawyer said the court convicted the two policemen of manslaughter.
The two claimed Said had choked on a package of drugs he tried to swallow as they approached, Associated Press said.
"The court sentences the defendants to seven years in jail for using cruelty against the victim," Judge Moussa al-Nahrawy said.
The court found that the two policemen took Said from an internet cafe in Alexandria and beat him to death.
Forensic evidence indicated the packet of drugs had been forced into his mouth.
Relatives of Said said they had expected a tougher sentence.
"Inside the court, the military police locked the doors of the court and the families of the two defendants literally beat up four lawyers in protest," Said's uncle, Ali Qassem, told Reuters news agency.
"Justice has not been done to Khaled Said and we will not budge.
"The response to the verdict will be on the street and not inside the court."
After his death, activists circulated photos of the badly beaten Said on the internet, prompting protests against police brutality and helping to launch the uprising that overthrew Hosni Mubarak.