Hong Kong court dismisses Nina Wang inheritance case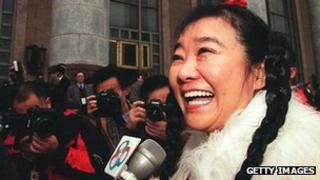 Hong Kong's top court has dismissed a case from a man seeking to inherit the multi-billion dollar estate of Nina Wang, once Asia's richest woman.
Tony Chan tried to persuade judges that Wang, who died in 2007, had left her entire fortune to him.
Earlier, a lower court had decided that this will was probably a forgery.
It ruled in favour of Ms Wang's Chinachem Charitable Foundation Ltd, whose claim to her estate rests on a will from 2002.
Hong Kong has filed forgery charges against Mr Chan in connection with the will.
Ms Wang and Mr Chan were reportedly lovers.
Ms Wang, who was 69 when she passed way, was known for her pig-tails, short skirts and colourful dress sense.
She was the widow of Hong Kong industrialist Teddy Wang, who disappeared in 1990 after a kidnapping.