Martin McGuinness: Paramilitary to politician to president?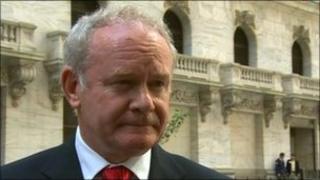 Irish presidential candidate Martin McGuinness has 40 days to win the trust of the Irish people.
If successful, the former IRA commander will complete a remarkable journey from paramilitary to politician to president.
He is not the favourite to win the 27 October election. The Irish bookmakers put Sinn Fein's Mr McGuinness in third place behind the Labour Party's Michael D Higgins and Fine Gael's Gay Mitchell.
They both live in the Irish Republic. McGuinness lives in Northern Ireland meaning he will not even be able to vote for himself.
However, the presidential prospects of the man from the Bogside of Londonderry are being taken seriously by his opponents.
One Dublin politician from a rival party said: "You cannot rule him out. It's a bit like Liverpool winning this year's Premier League. They're not the most likely winners but stranger things have happened."
Mr McGuinness, 61, has a number of strengths, including the well-oiled Sinn Fein electoral machine at his disposal.
After winning 10% of the vote, and 14 parliamentary seats, in the recent Irish general election, they are a party on the rise in the south. In politics, as in sport, momentum is important.
He is an instantly recognisable face. Mr McGuinness is well known throughout Ireland, from Letterkenny to Limerick. Unlike some of his opponents, he will need no introduction at the doorsteps.
He is a good communicator and in recent years has developed a touchy-feely style.
IRA past
A Northern Ireland civil servant who worked with him at Stormont once said: "No matter what you've heard about him and what he's done, once you meet him, it is hard to stop yourself liking him."
However, not everyone on the campaign trail will want to shake his hand, due to his IRA past. Some still see him as a man of war, not a man of peace.
Traditional Unionist Voice leader, Jim Allister, branded him the "Bogside butcher". He said it would be good to get rid of him from Stormont, and that if Ireland was "foolish enough" to make him president then "the Republic's loss would be Ulster's gain".
Mr McGuinness has admitted being second in command of the IRA in Derry in the early 1970s but has never said exactly what he did. He can expect a plethora of questions on the subject in the next five weeks.
An Irish Times headline described the forthcoming campaign as 'incendiary'. It has already been eventful.
It looked as if the legendary Irish chatshow host Gay Byrne was going to add some showbiz to the race, but he changed his mind at the last minute.
The decision by one of the main parties, Fianna Fail, not to run a candidate is one of the reasons why Sinn Fein fancies its chances.
At the general election, Fianna Fail gained 17.4% of the vote. Now their 387,358 voters are up for grabs.
Sinn Fein polled 220,661 votes in the recent election. Mr McGuinness will need to double that to have any chance of winning the presidency. The party is confident he can do it, with a large chunk of the Fianna Fail vote coming his way.
Then comes the tricky bit for Sinn Fein - vote transfers.
It is a proportional representation election in which voters rank the candidates in order of preference. This brings vote-transfers into play and, traditionally, Sinn Fein is not transfer-friendly.
Already Mr McGuinness has tried to broaden his appeal by saying he will have a "broad agenda" and does not want to be seen as a party political candidate.
However, that is what all the candidates will be saying.
It promises to be a fascinating contest. The outgoing president comes from Northern Ireland, Mary McAleese. Will history repeat itself?
The most likely outcome is that Mr McGuinness will do well in the election, but not well enough.
However, much can change during the next 40 days and nights.
Sinn Fein are guaranteed to fight for every last vote.
Already some party supporters have come up with a campaign slogan - "McGuinness is good for you".