US VP Biden to tour China on charm offensive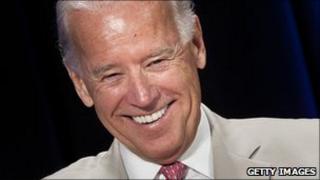 When a young US senator named Joe Biden visited China in 1979, he found a poor country emerging from the horrors of the Cultural Revolution.
Just three decades later, Mr Biden, now vice president, is returning to Beijing, the heart of the world's second-largest economy, a place with enough financial muscle to help create jobs in America.
"Simply put, we're investing in the future of the US-China relationship," Tony Blinken, Mr Biden's national security adviser, told reporters ahead of Wednesday's trip.
"One of the primary purposes of the trip is to get to know China's future leadership, to build a relationship with Vice President Xi, and to discuss with him and other Chinese leaders the full breadth of issues in the US-China relationship," he added in a conference call.
Mr Biden's counterpart, Xi Jinping, is widely expected to take over the chairmanship of the Chinese Communist Party in 2012 and to be formally anointed as president in March 2013.
This week's visit, which was agreed in January, will pave the way for Mr Xi to visit Washington later this year.
Aides say Mr Biden's main mission during his five-day trip to China will be to spend time and build rapport with Mr Xi, who has kept a relatively low international profile.
"This is a ceremonial visit, intended to warm up relations before Vice President Xi travels to America," agrees Xie Tao, a professor at Beijing Foreign Studies University.
Back on track
The US vice president is on a charm offensive.
Part of the job will be to reassure his hosts that Washington is serious about getting its economy back on track.
Protracted negotiations over the future of the US budget deficit have dented confidence in American economic growth.
And earlier this month, ratings agency Standard & Poor's downgraded US sovereign debt for the first time ever, adding to a slump in international markets.
Lael Brainard, under secretary for international affairs at the US Treasury, told reporters that Mr Biden will push Chinese officials to do their part to help global markets and economies to recover faster.
One way to do that would be to allow the Chinese yuan to rise faster against the US dollar.
A more expensive yuan relative to the US dollar would increase China's purchasing power, which would, in theory, boost trade and help create jobs in America.
Mr Biden is likely to find an audience receptive to this argument, because of China's own battle with inflation.
"Countries like China are using exchange rates, instead of interest rates, to tackle inflation, because of fears of slowing growth in West," says Marc Chandler, global head of currency strategy at Brown Brothers Harriman in New York.
In the past week, the yuan has consistently been trading near record highs against the greenback.
Fighter jets
Mr Biden's trip comes at a time of warming bilateral relations.
In the past few months, even as tensions flare in the South China Sea, Washington has been wary of doing anything to upset China.
That is why some analysts believe America will not approve the sale of more advanced F-16 fighter jets to ally Taiwan.
Defense News, a US publication, reported over the weekend that Washington has formally refused Taiwan's request for the jets.
The report was not confirmed, but may be raised during the vice president's trip.
"He is not going to China to address that issue," says Daniel Russel, staff senior director at the US National Security Council.
"Now, it would not be surprising at all for the Chinese interlocutors to raise Taiwan, as they typically do."
The US is legally bound to defend Taiwan in the event of an attack by China.
The island may be asking for fighter jets in a deal worth billions of dollars, but it, too, is banking on improving trade and relations with its giant neighbour.
The mainland still has plenty of poor citizens, but China is no longer the impoverished country that Mr Biden visited more than 30 years go.
His trip is proof that Washington has more to gain from engaging Beijing, rather than alienating its major banker and trading partner.