Indian girl 'sold for sex' by her father in Kerala
By Ashraf Padanna
Kochi, Kerala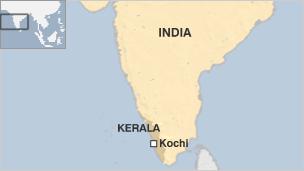 A 17-year-old Indian girl who was allegedly forced by her father to have sex for money with up to 200 men has described her ordeal to the media.
Police in the southern Indian state of Kerala arrested her father and 29 other people two weeks ago.
The girl said she was raped by her father, starved and forced by him to have sex with other men.
Her father has not made any public comment. Police have vowed to hunt down the men alleged to have paid for sex.
They have despatched special police teams to find up to 70 men she has named and accused of paying to have sex with her. These are said to include contractors, film producers and policemen.
"My father first raped me when my mum was not home. Later he started taking me out to different locations, saying I'll get a chance to act in movies," the girl told a local television channel.
She says that when her mother found out, her father threatened to kill the entire family unless her mother kept silent. Police have arrested the mother for not disclosing a crime.
"The government will not allow anyone to escape the law," Chief Minister Oomen Chandy said.
The girl was finally rescued when other relatives discovered what was going on and informed the police. She is currently in a shelter where she is undergoing treatment for depression, police say.
"We will do whatever we can to bring her back to normal life. She wants to complete schooling and lead a good life," said Dr MK Muneer, the minister for social welfare in the provincial government.
"She says she was raped by 200 men. It is shocking and it freezes your conscience," he said.