Sentence reform U-turn serves up hard cheese in prisons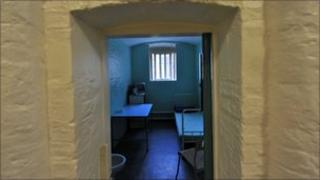 Boris Johnson helpfully pointed out in the Sun that soft was good for a French cheese, but not for the government's sentencing policy.
As he must have known David Cameron and Ken Clarke had already reached that conclusion.
Now they are to drop their plan to allow any criminals to serve just half of their sentences if they plead guilty early. There is, though, much more to come.
I hear that there will be concessions too on their much more significant plan to review indeterminate public protection prison sentences.
These were a New Labour innovation intended to allow judges to lock up prisoners until they were no longer judged to be a serious threat to the public.
There are around 6,000 prisoners serving so-called IPPs - 3,500 have completed their terms but are still being held inside.
The Ministry of Justice had planned to change the "serious risk" test to reduce the number serving IPPs and cut prison numbers. That change is now, I'm told, to be reviewed.
Meantime, the prime minister will announce tomorrow that those serving time for the most serious offences - rape, murder etc - will, in future, no longer be eligible for 50% remission for good behaviour.
In another Sun and Mail pleasing gesture, prisoners will be made to work harder, longer, to pay more compensation to their victims.
For liberal justice reformers this sounds - or is, perhaps, meant to sound - like very hard cheese indeed.
UPDATE: Forgive my late night schoolboy error. Murderers serving life sentences are not eligible for remission for good behaviour. However, other serious offenders are. It is they who look set to hear today that they are no longer eligible for so much time off for good behaviour.