Afghanistan: New car plates are 39 steps to shame
By Tahir Qadiry
BBC Persian TV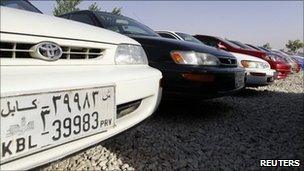 Vehicle licensing officials in troubled Afghanistan have hit a new pothole - a curious aversion for registrations containing the number 39.
The new plates are stacking up at the Kabul traffic police department and car prices and sales have been hit.
For some reason number 39 is held as a mark of great shame by Afghans.
It is thought the taboo started because a pimp had 39 on his number plate. Others say it dates from an old way of calculating numbers called "Abjad".
Whatever the explanation, the aversion has spread around the country and seems to be growing.
"I am gutted that my car has a 39 number plate. I have had enough of people's taunts," said Ahmad Ghafor, a taxi driver in Kabul.
"It gets worse when I have women customers in the car. Other drivers signal to me or blow their horn saying 'shall we pay you to drop these ladies to my place?'"
Mr Ghafor said he had tried to sell his car, but no one would buy it.
Other motorists have paid to have their plates professionally altered and the 39 erased, reports say.
Problems began when the five-digit plates recently rolled over from a series starting with number 38 to one beginning with 39.
Nuruddin Hamdard, head of the Kabul traffic department, told the BBC: "According to law, we have to distribute plate number 39. It is people's ignorance that they go after superstition."
He accuses car dealers of trying to benefit from the situation.
But others say traffic department officials are charging more than $300 (£185) as a bribe to issue plates with a different number.
Drivers and car firms all over Afghanistan are affected, but nowhere more so than in the western city of Herat, where the story about the pimp originated.
"You wouldn't dare to drive a car containing number plate 39 on roads in Herat," Fawad Heravi, a local car dealer, told the BBC.
"You'd simply accept you'd be called a pimp and followed by other road users."
Car prices have been hugely affected.
"Can you believe that I sold a car for $7,000 because of this 39 number plate? Its actual price was $12,000," says Qais Yasini, a car dealer in Mazar-e Sharif in the north.
And it's not just licence plates.
"When you ask people who are 39 how old they are, they get sensitive and say, 'I am one year to 40'," Mr Heravi said.
People also avoid mobile phones with the dreaded digits.
One man unlucky enough to have such a phone number says he is always being pestered.
"I receive lots of anonymous calls asking if I have got prostitutes," Mustafa Jalal told the BBC. "I am known as Mr 39 amongst my friends."
Finally, spare a thought for people living at number 39.
"The final thing I could do was to erase 39 from our door sign by spraying paint on it," said Lemar Jalalzai from Mazar-e Sharif.
"My mum and sisters were taunted by people and some people even wrote on our wall saying 'welcome to pimp house'."
Nuruddin Hamdard of Kabul's traffic department says people should get real.
"In every Islamic country you can see car plates number 39. We have verses of the Koran starting with 39.
"I have spoken to mullahs about this - they have no idea and call it absurd and superstition. People are just making a mountain out of a molehill."
That may be so, but prospective car buyers will breathe a sigh of relief only when the 39 series plates are all gone. Roll on 40.