HTC leads pack in Asia's race to rival Apple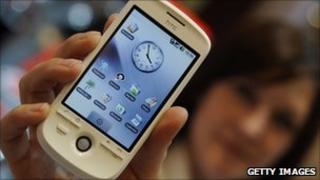 The HTC office on the outskirts of Taipei may look like any other corporate building, but if things go according to plan, it may well become the epicentre of global technology.
In a space of just under five years it has become the world's third-biggest mobile phone maker.
And the company has no intention of sitting on its laurels.
It is targeting to take on the might of Apple and become the number one player in the sector.
A look at how its products are holding up against its rivals indicates that their ambition is not too far-fetched.
According to Macquire Equities Research, HTC's phones are among the best-selling and top-rated gadgets across various service providers in the US, and also with Vodafone and Expansys in the UK.
'Continuity in innovation'
The growth has been brought about by the company's conscious change in focus.
While it has been manufacturing phones for a long time, HTC decided to launch its own brand in 2006.
John Wang, the company's chief marketing officer, says HTC realised that for the next level of growth to happen, it had to interact with consumers directly.
"If we don't have a brand, there is no direct dialogue with the consumers and there is no continuity in innovation," Mr Wang says.
"The decision to launch the HTC brand was a very important one, not because of marketing, but because of innovation," he adds.
HTC currently employs 3,000 workers in its research and development wing - the "magic lab".
It is planning to add another 1,000 to the workforce to conceive and design what it wants to be the coolest gadgets in the world.
Analysts say the company has got its focus right, as innovation is key to turning a brand into a global phenomenon.
"Innovation is what made Apple and Blackberry successful," says Manoj Menon of Frost & Sullivan.
However, he warns that despite their initial success, Asian companies have a long way to go before they can catch up to their Western rivals.
"It would be fair to say that majority of the innovation continues to come from the US," Mr Menon says.
"That is the primary reason that we do not see many more become global brands," he adds.
Hardware vs software
While Asian firms have been able to come up with successful hardware, they are yet to take the big leap in software development.
Analysts say that if these companies want to become global players, this will have to change.
"Asian brands must go beyond hardware and make a meaningful entry to software, or failing that, the new holy grail of services," says Tim Charlton of Charlton Media.
"If they want to compete with Apple, they will need several thousand more software developers and they will also be competing against the might of Microsoft and Android," he adds.
Mr Charlton also adds that lack of software development is not only holding back growth, but is also hurting Asian firms financially.
"For example, HTC sells over 40 million handsets a year. But unlike Apple, it doesn't own the software but has to license it," he says.
"Just being the best at hardware is in itself an expensive undertaking," he adds.
'Tremendous potential'
Despite the hurdles, Asian firms have come a long way in the past few years.
Once merely contract manufacturers to leading players in the sector, their growth story has been phenomenal.
Analysts say that while there are still some issues that need to be ironed out, the potential for growth is enormous.
"There is tremendous potential to grow in the future," says Mr Menon.
He says that as the dynamics of the industry change in the future, the balance will tilt in favour of Asian firms.
"The technology sector, especially the hardware sector, will see some major market transitions driven by the internet," he says.
"As we see more and more consumer electronics devices get connected to the internet, we will see Asian brands potentially playing a bigger role in the future," he adds.
Given the headstart that they have, innovators in HTC's "magic lab" are ready for the show.