Shell to build Australian giant floating gas platform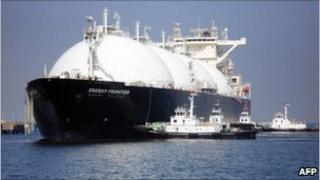 Oil firm Royal Dutch Shell has announced it will build the world's first floating liquefied natural gas (LNG) plant.
The Prelude project was announced on Friday and analysts believe it could cost between $8bn (£4.9bn) and $15bn.
It will provide 3.6m tonnes of gas per annum to meet growing Asian demand and come on-stream in 2016.
The plant will be moored 200km from the Australian coast.
The company claims the platform will be the largest offshore facility in the world, around 488 meters long.
It is being built in South Korea by Samsung heavy industries.
Shell's executive director, Malcolm Brinded, said the technology would expand the amount of gas which could be reached economically.
"(It) will allow us to develop offshore gas fields that would otherwise be too costly to develop," he said.
The project is likely to export gas throughout the region.
It would meet just over a third of China's current LNG demand at current levels - but that is expected to increase five times by 2020.
Japan is also increasing its LNG imports to meet demand due to reduced electricity supply from nuclear power. Japanese utility, Osaka Gas, signed up to import gas from the platform last year.
Environmental impact
Natural gas emits less carbon dioxide than other fossil fuels such as coal or oil - so Shell says using natural gas is a cleaner option for the environment.
They point out that being able to locate LNG platforms offshore will reduce the environmental impact on coastal areas and the sea bed compared with conventional gas facilities.
However some environmentalists in Australia have criticised the move saying the process of extracting the gas from the field and then chilling it to a liquid form will create greenhouse gas emissions.
"WWF is very concerned about the potential impacts on the tropical marine environment and the high greenhouse gas emissions from this project," said Paul Gamblin from WWF Australia.
Cheap gas
The investment marks the latest push into the gas sector by Shell which has been steadily increasing its production.
Analysts say investments in gas are likely to bring a lower return than oil as new supplies - especially from shale gas - become available.
"Gas is relatively easy to find and frankly probably getting cheaper to produce," said Johan Hedstrom, an Australian energy analyst at Southern Cross Equities.
"And you don't have an OPEC that controls gas, so you have to make up for the price weakness by doing more volume," he added.