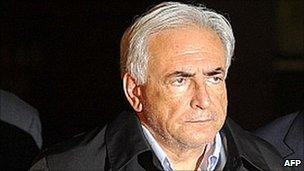 In a New York minute, French politics changed. Dominique Strauss-Kahn was the front-runner to be the next French president, although he had not yet declared himself a candidate. His high-profile American lawyer said he "denies all the charges against him". But almost certainly he is politically dead.
It would take a rapid unravelling of the maid's accusation of sexual assault for him to have a future in French politics. As the hours go by, old stories are being dusted down and retold about a man who is openly called in France the "great seducer".
In the past, his reputation has not harmed him. French voters have been far less troubled by infidelities or the complexities of a leader's personal life. Mr Strauss-Kahn was able to survive an affair with a subordinate working as an IMF economist in 2008. He wrote to IMF staff and said "while this incident constituted an error in judgment on my part, for which I take full responsibility, I firmly believe that I have not abused my position". In France, the affair caused scarcely a ripple.
So today friends and colleagues said that, even though "he had an interest in women", using violence would have been completely out of character. "This does not resemble the man I know," said former Socialist Party boss Francois Hollande. His wife, too, defended him.
Others have suggested he is a victim of some kind of international conspiracy. One of his allies said: "Everyone knows that his weakness is seducing women. That's how they got to him." The woman - a councillor - said the aim was to "decapitate the IMF".
But there were far more voices like those of lawmaker Bernard Debre, who said: "It's humiliating for the IMF and humiliating for our country."
So who benefits from his downfall?
Obviously President Nicolas Sarkozy. It will not boost his poll ratings, but he will face candidates with nothing like the standing of Mr Strauss-Kahn. The head of the IMF was a heavyweight, a big beast who has been at the heart of international efforts to prevent a global recession. He exuded experience and competence.
Mr Sarkozy will be more confident he can pick off the other Socialist candidates. Francois Hollande, for instance, has no experience as a minister. Others, like Martine Aubry and Segolene Royal, may well damage themselves fighting each other.
From the right, Marine Le Pen will try and exploit all this. Mr Strauss-Kahn, in her view, represents the elite that she maintains has lost touch with ordinary French working people. He was the classic insider - a corporate lawyer who served as finance minister and prepared France to give up the franc for the euro. She also reminded voters that she was a female leader when she said: "The truth, and everyone knows it, is that Paris has buzzed for months if not years in the political and journalistic milieu about the rather pathological relationship that Mr Strauss-Kahn maintains toward women."
Dominique Strauss-Kahn played a pivotal role in the eurozone crisis. He had pushed Europe to tackle its debts. He was also intensely committed to saving the euro. He was both courted and heeded by major European leaders, particularly the Germans, who wanted strong IMF involvement in Europe's bail-outs.
Some say the IMF's commitments may change. "The chances are the successor won't be a European, and will want to rebalance the IMF's priorities away from its massive commitment in Europe," said Jean Pisani-Ferry, director of the Bruegel economic think-tank.
French politics have been thrown wide open and for Europe's officials - struggling with an unrelenting debt crisis - they have a less certain partner in the IMF.