Renren under pressure as shares in China's Facebook debut
By Juliana Liu
Business reporter, BBC News, Singapore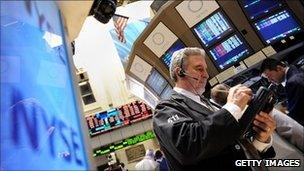 The company known as China's Facebook has not disappointed. Shares in Renren jumped 50% when they started trading on the New York Stock Exchange.
Investors had expected the hype surrounding the Chinese social networking site to make it another blockbuster listing, like that of Youku, China's YouTube.
Shares in Youku had tripled, in the best opening for a US listing in five years.
However, some analysts have questioned what might happen after the "dizzying heights" of the early days of trading.
"The post-IPO hangover will see volatility as investors wonder if this is really the 'next Baidu' or just one of a handful of struggling Facebook copycats," says Michael Clendenin, managing director of RedTech Advisors.
Renren, like Youku, is not making money at the time of listing.
But its business model holds the promise of massive future profits in the world's biggest internet market because of the number of Renren users.
Renren is banking on that premise, as well as on its singular status as the only pure-play social networking site open to mainstream investors.
It is known as China's Facebook because of obvious similarities between the two.
Facebook itself is banned from China for censorship reasons.
Renren was started in 2005 by three classmates who initially targeted university students, before it was purchased by the current chief executive, Joseph Chen.
The site eventually widened its base to appeal to all internet users in China - hence its name, which means "everyone".
Like Facebook, Renren makes money from internet advertising, but almost half of its income comes from online games.
The company shares were priced at $14 each. That represents a 30% increase from just a week ago, when it became clear that demand exceeded supply.
The social networking site was able to increase its listing price range, even after it told investors that it had only 31 million active users every month, much less than the 117 million that it had stated initially.
Mark Natkin, founder of Marbridge Consulting, says few investors would tolerate this kind of behaviour from a non-Chinese internet company.
"There aren't a lot of companies that could get away with that," he says.
But he adds: "The appetite for Renren shares is there because this is the first major social networking site from anywhere to list."
The embarrassing revision of user numbers is only one reason why analysts in Beijing, where Renren is based, are sceptical about Renren's long-term future.
Sabrina Dong, an analyst at Analysys International, believes the pace of new users joining Renren is slowing every month.
"Of course its overall user base continues to grow, but if you look carefully you can see that the pace of acquisition is clearly falling," she says.
According to figures supplied by Renren, the company added an average of 29% more active users in 2009 compared with the year before.
But that figure fell to 18% in 2010, and remained at 19% in the first three months of this year because of greater competition from other social network applications.
Renren may be known to the West as China's Facebook, but in fact it is just one of many social networking sites on the Chinese mainland.
There is Kaixin001, due to list later in 2011, as well as internet heavyweights such as like Tencent, Sina and potentially even search engine Baidu.
And Mr Clendenin believes the explosive rise of microblogs modelled on Twitter are stealing users from the likes of Renren.
"China's microblogs combine the functions of Twitter and Facebook, offering a one-stop shopping opportunity," he says.
He says it took Renren five years to attract 120 million users, whereas Sina's microblog, called Weibo, did the same in less than two years.
Weibo amassed about 37 million users in the first three months of the year alone.
But US investors are not considering Renren's rivals when they pile into the listing.
They are thinking about much bigger numbers.
China has an internet population of almost half a billion, and half of them use social media.
With global favourite Facebook out of the running, investors believe homegrown talent will find fertile ground.