Sony takes on Apple as it unveils its first tablet PC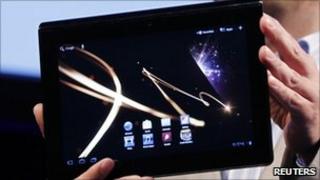 The Japanese electronics maker Sony has announced its first foray into the popular tablet PC market, unveiling two new devices.
The gadgets will use Google's Android operating system, according to the company's deputy president Kunimasa Suzuki.
Sales of tablet PCs have been booming globally, led by the success of Apple's iPad.
Sony has said it wants to become a leading player in the market.
The success of iPad has seen many consumer electronics companies, like Samsung and HTC, launch their own versions of the tablet PC in an effort to capture a share of the growing market.
'Ambitious goal'
According to research firm Gartner, sales of tablet PCs are likely to quadruple in the next four years to almost 294m units.
Sony has indicated that it is aiming to become the second largest player in the segment behind Apple within one year.
However, analysts say that Sony will find it tough to achieve that target.
"They don't have the starting advantage," said Manoj Menon of Frost & Sullivan.
"It is going to become an increasingly crowded market place and given the players, it is a fairly ambitious goal," he added.
Niche segments
Analysts say that as the tablet PC market evolves over the next few years and the number of players grow, companies will have to find their niche.
"There will be specific segments that companies will cater to," said Mr Menon.
"Research in Motion (RIM) is big player in enterprise segment, Apple has captured the consumer market and is now targeting the enterprise sector," he added.
Mr Menon said that this is where Sony has a unique advantage.
Its gadgets like PlayStation already allow users in different parts of the world to interact and play games with other.
He said the electronics maker has a long standing partnership with Ericsson and together they could play a big role in the coming years.
"We estimate that by the year 2020 we will see 80bn gadgets connected to each other worldwide," he said.
"Given the expertise Sony has in consumer market and that of Ericsson in network operations, they could have a big impact in connecting the tablet segment," he added.