China's anti-piracy measures 'inconsistent', lawyer argues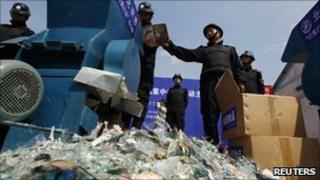 China has been making the right gestures when it comes to enforcement of intellectual property protection.
The last two years have seen the enactment of new provisions in the patent law and copyright law. A new trademark law is due to be finalised soon.
Along with these new steps, the amount of civil litigation has steadily increased. According to China's Supreme Court, more than 41,000 copyright infringement cases were filed in 2010, significantly more than the 30,000 cases filed just a year before.
But while the new developments look persuasive on paper, how effective is China's intellectual property protection regime?
A walk down virtually any commercial street in Shanghai shows just how pervasive the market for counterfeit handbags, clothing and DVDs actually is. Occasional raids do shut down these businesses, which often reappear just weeks later.
This lack of consistency does nothing to further confidence in China's ability or willingness to protect intellectual property.
Enforcement of property rights is possible in China, but there is a remarkable lack of consistency between jurisdictions. Authorities still often suffer from lack of experience and will power, and local protectionism.
While some provincial authorities appear to pay heed to the central government's directives on copyright protection, they often do little more than pay lip service.
The current national campaign to stamp out counterfeiting, called "Showing the Sword", began in November 2010 and will continue until June 2011.
Many authorities jumped on the bandwagon, actively seeking out infringers. But their entire focus appears to be oriented toward quick results rather than lasting solutions. Officials tend to favour uncontroversial cases that enable them to achieve quick results.
The announcement of important litigation decisions also seems suspect. In several cases, courts are timing their announcements for World Intellectual Property Day on Tuesday.
Of course, we litigators are not complaining. Favourable decisions are welcome anytime. But one cannot shake the feeling that these so-called special copyright protection days are not the solution.
No doubt 26 April will see many successful judgements being handed down by Chinese courts.
However, it would be better if positive outcomes became the norm, rather than the result of special anniversaries, which we all know will end all too soon.
The opinions expressed are those of the author and are not held by the BBC unless specifically stated. The material is for general information only and does not constitute investment, tax, legal or other form of advice. You should not rely on this information to make (or refrain from making) any decisions. Links to external sites are for information only and do not constitute endorsement. Always obtain independent, professional advice for your own particular situation.